Drowning Prevention Technology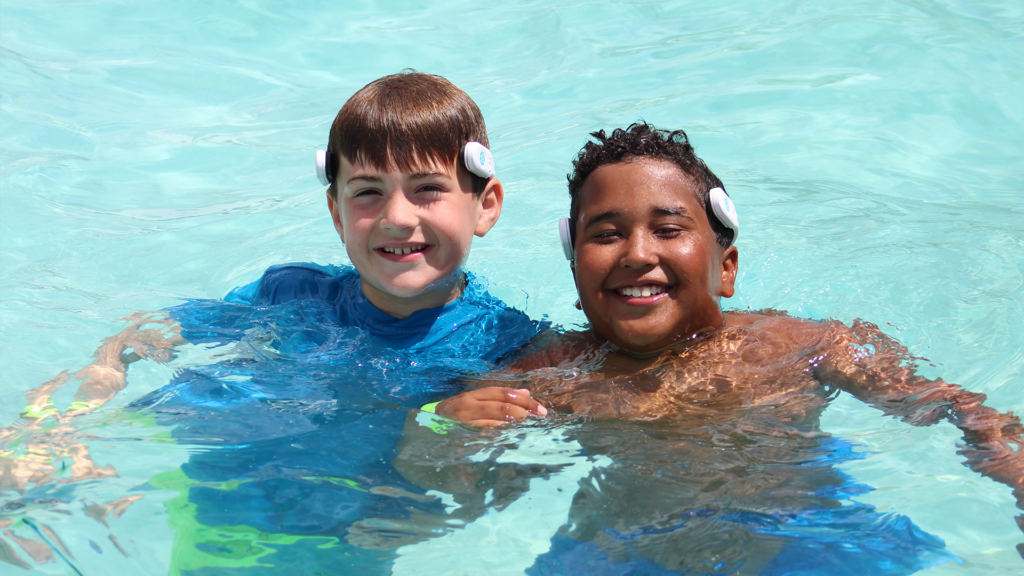 Vancouver Parks, Recreation and Cultural Services is operating a trial of the WAVE drowning detection system at Marshall Pool from Nov. 6 to Dec. 15, 2023. WAVE is a new technology designed to support lifeguards and reduce the risk of drowning.
Water safety is always the highest priority for aquatics staff and even with comprehensive lifeguard training and certification in place, the risk of drowning is always present. WAVE monitors swimmers in real time and uses an alert system to notify lifeguards if a swimmer's face has been fully submerged for a dangerous length of time. This ensures that aquatics staff can investigate and intervene quickly if needed.
The WAVE trial period will give aquatics staff the opportunity to become familiar with the technology over the course of six weeks at Marshall Pool. Community participation in the WAVE trial will provide aquatics staff with the most complete understanding of the system. It will also give community members the chance to share their personal experiences using the system to inform future decisions about whether WAVE is a good fit for Vancouver pools.
Frequently Asked Questions
How does WAVE work?
WAVE uses Bluetooth technology to operate in the background while lifeguards watch over their swimmers. Before entering the pool, swimmers are provided with a wearable device called a "Tracker" that automatically connects to wristbands worn by the lifeguards on duty.
If the Tracker is underwater for more than 15 seconds, an alarm will sound, and lifeguards will receive an alert on the WAVE wristband they wear while on duty. WAVE will also trigger an alarm in the pool office if the lifeguard jumps into the water to signify additional staff are needed.
These automatic alerts create quicker response times and reduce the likelihood of drowning.
What is a Tracker?
Trackers are lightweight devices that swimmers put on before entering the pool and wear throughout their time in the water. Swimmers can choose between a comfortable headset design or a pair of clips that attach to most styles of goggles.
WAVE Trackers have no buttons and automatically activate when worn. They have been tested on thousands of swimmers and most people forget they're wearing a Tracker after just a few minutes.
Swimmers can remove their Tracker when they exit the water and return it to the storage tower located on the pool deck. If a Tracker falls off during use it will float for easy retrieval.
Visit the WAVE FAQ webpage for more information.
Who should wear WAVE Trackers? Are they safe?
Do WAVE Trackers work on children? Do they just fall off?
Just like getting into the habit of wearing a helmet before getting on a bike, most people forget they're wearing a Tracker after a few minutes. Help your child understand that WAVE is being used to make swimming as safe as it can be, and they will follow your lead.
If a Tracker does fall off while swimming, it will float so you can locate it and put it back on easily.
Information for parents is available on the WAVE website.
I'm not a Marshall Center member, can I still participate in the WAVE trial?
Firstenburg Community Center members currently have free access to Marshall Pool. Show your Firstenburg membership card at the Marshall front desk for entry to the pool.
People who are not community center members are welcome to participate in the trial by visiting Marshall Pool during a regularly scheduled public swim and paying the associated drop-in fee or by attending the Bauman Family Swim on Saturdays from 10 to 11 a.m. ($2 per person).
Check the pool schedule to plan your visit.
Will WAVE replace lifeguard staff or reduce the total number of lifeguards needed?
No. WAVE does not replace responsible human supervision, it is designed to support and empower trained lifeguards in their work.
WAVE is one tool being explored by aquatics staff to improve their professional experience. If implemented, it would be done in conjunction with other safety actions like increasing the total number of lifeguards on staff and creating more capacity for swim lessons.
What if I need to request an accommodation for myself or my child?
The WAVE system is most effective when the Trackers are worn by all swimmers. Everyone is encouraged to attempt to use the Tracker technology during the trial period. Aquatics staff are on-site to help find the most appropriate Tracker option for all swimmers and ensure it is positioned well for safety and comfort.
If it is decided that wearing a Tracker is not possible, please contact Andy Meade at 360-487-7098 to request accommodation during the trial period.
The Americans with Disabilities Act (ADA) prohibits discrimination against individuals based upon a disability or perceived disability and reasonable accommodations will be provided to qualified persons with disabilities. Learn more about City of Vancouver Inclusion Services.