Community Gardens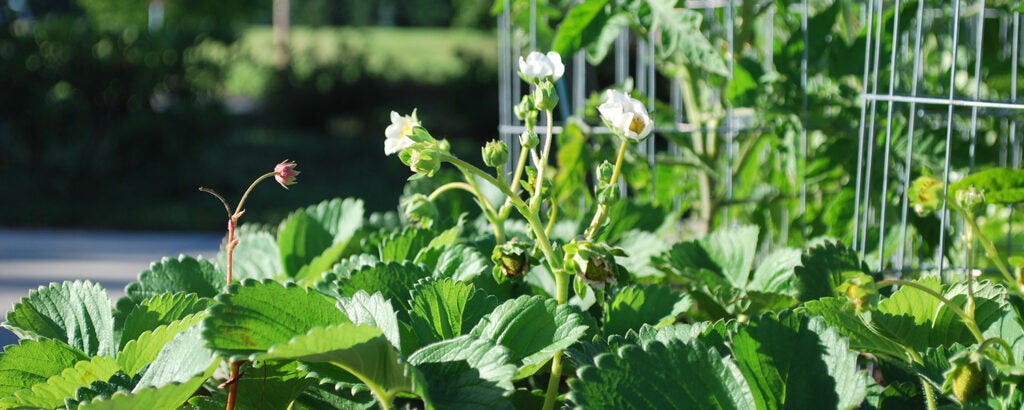 The City of Vancouver is home to five public community gardens that provide the opportunity to grow fruit, vegetables and flowers within designated areas of some Vancouver parks.
Start Your Community Garden
Community gardening allows you to experience the gratification of producing flowers and food for your own table, regardless of the space you have at home.
Vancouver Parks, Recreation and Cultural Services Community Garden Program has a variety of plot sizes and types available at multiple garden locations. If you have question, contact the Community Gardens information line at 360-487-7099 or email CommunityGardens@cityofvancouver.us.
2023 Community Garden Season
Register in-person, by phone or online. Phone and on-line registrations must be paid for using a credit card. Initial registration is limited to one plot.
Planting Schedule
Gardens open for the season: April 7
Gardens close for the season: Nov. 5
All dates are dependent on weather conditions. Winter weather may impact the City's ability to prepare garden beds and may delay the start of planting. Please plan accordingly.
Plot Assignments
Plots will not be assigned or shared in advance of final staking and stringing preparation. You will see your plot assignment on site after the gardens have opened for the season. Emails and phone calls regarding plot location questions will not be returned until after all garden sites have been opened for the season. Plants installed prior to garden opening will be subject to removal at the discretion of Community Garden staff.
Local Gardening Resource Database
Connect with Master Gardeners, an extension program of Washington State University, for information on how to start your garden and to learn new techniques.
Vancouver Community Garden Plots
Marshall Community Park Garden
1009 E. McLoughlin Blvd.
50 plots – 20′ x 20′
10 plots – 10′ x 10′
3 raised beds – 4′ x 12′
7 round raised containers
This site has access to restrooms, drinking fountains, picnic tables, benches and parking.
LeRoy Haagen Community Park Garden
E 9th St., west of NE 136th Ave.
12 plots – 20′ x 20′
6 plots – 10′ x 10′
4 raised beds – 4′ x 12′
This site has access to restrooms, drinking fountains, picnic tables, benches and parking.
Ellsworth Road Garden
SE 10th St. and Ellsworth Rd.
This site has access to parking.
Fruit Valley Park Garden
31st St. and Fruit Valley Rd.
16 plots – 20′ x 20′
2 plots – 10′ x 10′
This site has access to benches and limited parking.
Garden Plot Rates
| Size | City Resident | Non-Resident | Senior City Resident (65+) | Senior Non-Resident (65+) |
| --- | --- | --- | --- | --- |
| 20×20 | $50 | $56 | $40 | $44 |
| 10×10 | $26 | $29 | $21 | $23 |
| Raised Beds (Marshall and Haagen) | $20 | $22 | $15 | $17 |
| Containers (Marshall) | $18 | $20 | $13 | $15 |
Community Garden Rules
Vancouver Parks, Recreation and Cultural Services strives to provide a quality Community Garden program that everyone can enjoy. The following rules have been established to ensure that City of Vancouver Community Garden sites are well-organized and safe.
General Site Use and Safety
Garden use is only allowed when the park is open, from 5 a.m. to 10 p.m.
The Community Garden program is seasonal. Sites are not open for use outside of the identified season. Any materials left at the site after the last day of the season will be declared abandoned and removed.
Gardens are intended for personal use only; commercial uses are not allowed.
Dogs must be on a leash and under your control; you must remove any pet waste.
Do not park or drive vehicles onto the garden site.
The possession of an open container and/or the consumption of intoxicating substances are prohibited.
Discharge of firearms, use of fireworks and/or open fires are prohibited.
Smoking is prohibited in the garden and anywhere on park grounds.
Cooperate, communicate and be considerate of other gardeners.
Promptly report any violations of these rules that you directly witness to 360-487-7099 or email CommunityGardens@cityofvancouver.us.
Immediately call 911 if you witness a crime or are concerned for your safety.
Gardeners who fail to follow Community Garden rules will be subject to disciplinary action, which could include forfeiture of their plot. (VMC 15.04.170).
Gardener Safety and Expectations
Gardeners who fail to maintain their plot will be notified via email and posting on-site. They must attend to their plot within 5 days of notice. Please ensure your contact information is updated and accurate throughout the garden season.
It is the gardener's responsibility to regularly plant and maintain their plot so it does not overgrow, affecting neighboring plots.
Garden plots may not be expanded beyond the designated and staked plot and plots cannot be combined into a larger area.
Gardeners must keep paths adjacent to their plot unobstructed and free of all debris. Debris left in paths and perimeters is subject to removal.
The use of non-organic pesticides is prohibited.
Remove trash and litter from your plot. There is no garbage service on site.
Gardeners may compost in their own plot or in marked compost locations only. Dumping material outside of marked areas and/or anywhere in the garden or park is prohibited.
Wind up hoses and return to the faucet when done; do not bury hoses.
Plots are marked out/staked annually; exact plot locations may shift year to year.
Do not remove or destroy any property or planted material that does not belong to you.
Failure to comply with any of the above guidelines may result in action including but not limited to forfeiture of plot for this garden season and/or removal of priority registration for the following year.