Adopt-A-Park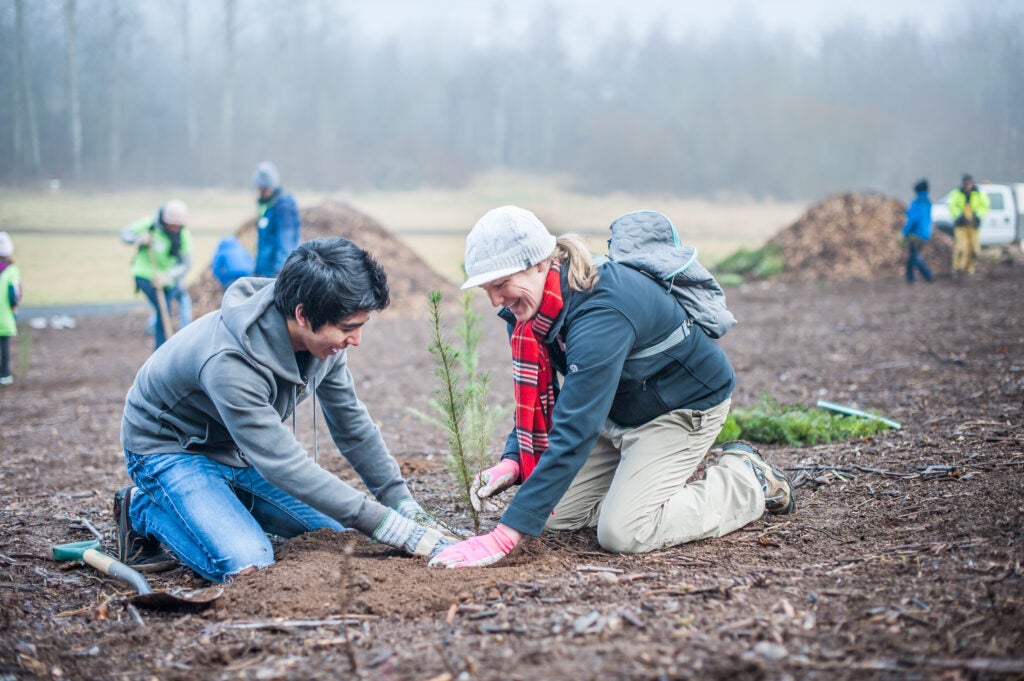 With the Adopt-A-Park program, you can help make public spaces more beautiful and help build community in your neighborhood. Adopt-A-Park volunteers help maintain the park of their choice through the park "adoption" process. Participants rake leaves and wood chips, pick-up litter, clean park equipment, remove weeds and invasive plants, and work on other projects that keep parks looking their best.
Volunteers are asked to regularly track and submit their volunteer hours to the Volunteer Coordinator. All Adopt-A-Park group leaders meet with the Volunteer Coordinator to discuss safety standards and approved work in their parks.
Review the frequently asked questions and take a look at the list of adopted parks to learn more. For additional information, fill out an application online or contact the Volunteer Coordinator at 360-487-8344. To join an existing group or work party, visit our Volunteer Calendar and sign-up.
Currently Adopted Parks and Public Spaces
Arnada Park
Bagley Community Park
Beaver Marsh
Behrens Woods

Naturespaces site
Community work parties every 2nd and 4th Saturday at 9 a.m.

Burnt Bridge Creek Trail

Monthly litter pick-ups are hosted by the Vancouver Walking Club

Blandford Canyon
Cascade Park
Clearmeadows Park
Countryside Park
Ellsworth Springs West
Fircrest Park
Firstenburg Community Center grounds
Fisher Basin Community Park
Fruit Valley Park
Hearthwood Park

Work parties on the 2nd Saturday of the month at 10 a.m.

Homestead Park
John and Margrette Coop Park
Leach Park
LeRoy Haagen Memorial Community Park

Work parties on the 4th Saturday of the month at 10 a.m.

Leverich Park
Marshall Community Park
Oakbrook Community Park
Shumway Park
Tranquility Nature Area
Frequently Asked Questions
Are there any qualifications or requirements to Adopt-A-Park?
Comfortable working outside, sometimes on uneven ground and willing to get dirty. It may be necessary to walk on unimproved trails and/or sloped sections of ground in order to access the areas that need to be maintained.
Able to follow directions.
Able to work independently.
Able to lift up to 25 pounds.
Interact and communicate with the public in a professional manner.
Able to work outside in a variety of conditions such as heat, cold or rain.
Perform physical activities that require considerable use of your arms, legs and entire body, such as lifting, balancing, walking, stooping, bending and handling of materials.
Appearance should be a positive reflection of the organization.
Suitable clothing is required and will consist of closed-toed shoes and long pants.
What is the time commitment?
Adopt-A-Park groups can choose dates and times that work best for their volunteers. There should be a minimum commitment of six months or longer, at least once per quarter; more time is preferred.
Where can I volunteer?
All parks, trails and open spaces operated by the City of Vancouver are eligible. Explore the list of currently adopted parks and natural spaces to see if your local park is available or to join an existing group. You can also use the Park and Trail Finder to locate your neighborhood park.
Are there age restrictions?
Youth under 18 must bring a signed minor consent form and youth under 14 must be accompanied by an adult.
Is an application required?
Is a background check required?
Background checks are required for group leaders, and for those adopting a park as an individual.
What are the benefits?
After three recorded volunteer events, a recognition sign will be installed at the adopted park. This is great opportunity to get outside, beautify parks, trails and green spaces, and meet new people.