Detecting Water Leaks
Water is a precious resource. Water leaks from both home and business plumbing systems account for almost 10,000 gallons of water wasted each year. Nearly 10% of homes have leaks that waste 90 gallons of water every day. About 1 trillion gallons of water is wasted in the United States each year. Even if you conserve water, leaks in your plumbing or irrigation system can be a drain on your wallet. Follow these easy steps to catch leaks and save money.
Check your water bill
A simple way to identify leaks in your plumbing system is by checking your usage on your water utility bill. You should expect to see consistent water use, but if water use rises then there may be a leak. Extra summer water usage for sprinkler system watering might change your typical usage.
Monitor your water meter
One of the best ways to check for leaks is by checking your water meter. Follow these steps:
Make sure no water is being used inside or outside of your property.
Locate your water meter. If you don't know where your water meter is located, please call the City of Vancouver Utility Services at 360-487-7999.
Open the meter reader lid of your water meter box. Open the cover of the water meter (if not already open). Wipe away any dirt or debris. Look at your water meter to see what is happening. For an analog water meter illustrated below on the left, the small dial on the water meter (typically star shaped, triangle shaped or a sweeping hand) is the water meter's flow indicator. If the flow indicator is spinning, you probably have a leak. For a digital water meter illustrated below on the right, the number in the red box indicates the flow rate. If the numbers increase in this box, water is moving through the water meter indicating you probably have a leak.
When checking your water meter, if there are no signs of the flow indicator moving, take a picture or record the water meter reading. Do not use the water for two hours. After this two-hour window has passed, check your water meter again. If the water meter reading changed at all, you probably have a leak.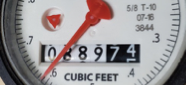 Locate the Leak
Once you determine a leak exists, follow these steps to help locate the source of a plumbing leak:
Find the main water shutoff valve for your home or building and turn off the water by closing the valve. Open a faucet within the property for only a few minutes to verify that the water is off.
With the valve closed, check the water meter.

If the flow indicator is not spinning on the analog water meter or numbers are staying still or not changing on the digital water meter flow indicator, no water is moving through the meter. The leak is likely located inside your home or business.
If flow indicator on the analog water meter is spinning or numbers on the flow-rate indicator on the digital water meter indicator are going up, water is moving through the meter despite your main valve being closed. The leak may be in your water line between the meter and the main water shutoff valve, or in an irrigation system. Look for any unusual vegetation growth or moist areas in the lawn or landscaping. Typically, such leaks occur at joints near the meter box or where water lines enter a building.
Other Leaky Culprits
Leaky toilet
Old or worn toilet flappers (valve seals or gaskets) can cause leaks. Mineral deposits from drinking water and building plumbing can build up on the flapper over time. Follow these steps to test for leaks at the toilet:
Put a few drops of food color or a dye tablet into the upper water tank of the toilet.
Do not use the toilet for 30 minutes. After 30 minutes have passed, watch for any color to appear in the toilet bowl. Color in the bowl indicates there is a leak.
Faucet Leaks
Check for surface leaks by examining faucet gaskets and pipe fittings for possible water on pipe surfaces. Old and worn faucet washers and gaskets can cause leaks. One drip per second can waste over 3,000 gallons each year, the equivalent of 180 average-length showers.
Showerhead Leaks
Check the connections between the showerhead and the pipe stem. Use pipe tape (or Teflon tape) to secure a tight connection. Leaks at showerheads at 10 drips each minute waste 500 gallons of water each year. This is equivalent to washing 60 loads of dishes in your dishwasher. For more complicated valve leaks at the shower, contact a licensed professional for assistance.
Outdoor Leaks
If you have an in-ground sprinkler irrigation system, check your system in the spring when you start up your system for water leaks. Start at your backflow preventer and work your way through the sprinkler irrigation lines to the sprinkler heads. This ensures that you catch any leaks that may have occurred due to frost or freezing conditions. A sprinkler irrigation system with a leak 1/32" in diameter can waste about 6,300 gallons of water each month.
Workplace Leaks
Leaks don't just happen at home. They can also occur at your workplace. If you suspect a leak, let your building maintenance personnel know.
Remember: Call before you dig!
For free Utility location service, call 1-800-424-5555. If necessary, contact a licensed plumber to help fix any leaks you detect.
Need additional information or have questions regarding leaks?
Please contact City of Vancouver Utility Services at 360-487-7999. More information regarding leak detection information can be found by visiting the EPA's Fix a Leak page.