Become a Firefighter
We're Hiring Lateral Firefighter/Paramedics
Applications open September 19 through October 8 – written exam and CPAT not required!
We're not taking applications from Entry Level Firefighter/Paramedics or Firefighter/EMT candidates at this time.
Lateral Firefighter/Paramedic applicants hired from this application process will be part of the Spring 2024 Firefighter Academy.
The fastest-growing fire department in the region
Voters recently approved a permanent tax increase that funds over 40 additional positions plus important station and apparatus upgrades.
Vancouver Fire Station 11 opened in 2022.
We're adding a third fully staffed truck company plus multiple 24/7 squad units.
Firefighter/Paramedic applicants hired from this application process will be part of the Spring 2024 Entry Level Firefighter Academy.
Vancouver Fire is hiring upwards of 80 frontline personnel over a three-year period
Generous rewards and benefits: $108,768 – $142,140 salary range, four-platoon work schedule, Washington LEOFF 2 retirement system
Vancouver Fire Department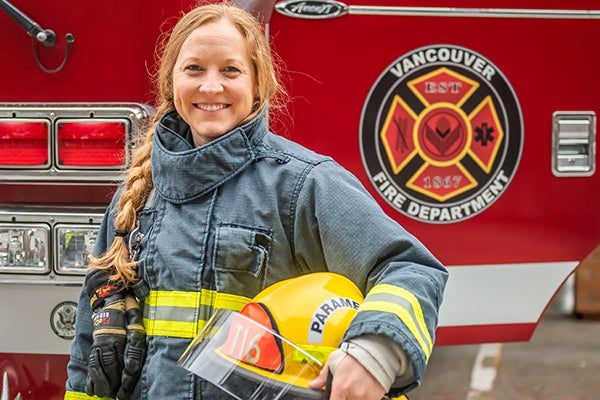 About Vancouver Fire
VFD is committed to safeguarding lives, property, and the environment within our community. Currently responding out of 11 stations with over 220 frontline fire personnel, VFD is the largest and busiest fire department in southwest Washington and responds to over 33,000 calls per year. Vancouver firefighters serve the community in many ways including fighting fires, providing emergency medical care through our state–of–the–art Emergency Medical Service (EMS) program, responding to hazardous materials incidents, performing on specialty response teams, and providing education to the community. Vancouver firefighters work as a team to provide the community with professional, effective, and compassionate service.
Qualifications, Compensation and Benefits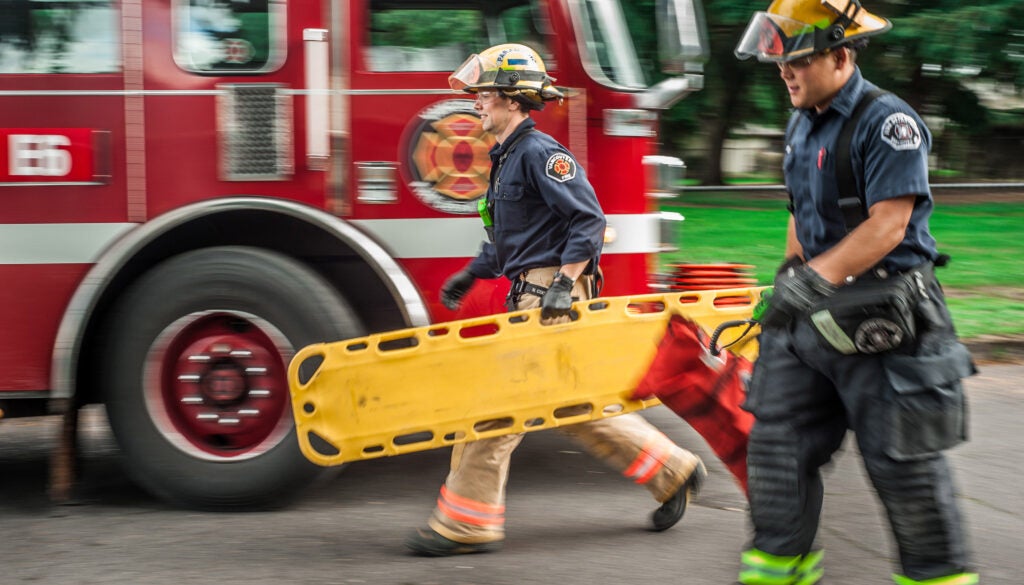 Minimum Requirements
Entry-Level Firefighter Paramedic
21 years old at application closing date
High school diploma or equivalent
Valid driver's license
Firefighting experience is desired but not required
Minimum PST written test score of 70% (a competitive score is usually at least 85%)
Successful completion of CPAT
Current Paramedic certification for FF/Paramedic applicants (must be eligible for Washington reciprocity)
Current EMT certification for Firefighter applicants is preferred
Firefighter/Paramedic starting salary: $108,768
Firefighter starting salary: $91,428
Lateral Firefighter
21 years at application closing date
High school diploma or equivalent
Valid driver's license
3 years full time firefighting experience is required
Firefighter 1 certification or equivalent
EMT or Paramedic certification (must be eligible for Washington reciprocity)
FF/Paramedic Salary Range: $108,768-$142,140 depending on experience*
FF/EMT Salary Range: $91,428-$124,812 depending on experience*
*Starting salary step commensurate with years of full-time experience divided by 2. For example, a Lateral Firefighter coming in with 8 years of full-time experience would start at Step 4. Per IAFF Local 452 2023-2025 Labor Agreement.
Benefits
Firefighters work a four platoon 24-on/48-off/24-on/96-off schedule with 11 debit shifts per year
Paid vacation and sick leave with generous accruals
Comprehensive medical, dental, vision, and prescription coverage for employee and family
Competitive public safety retirement plan – Washington State LEOFF II
Law Enforcement Officers' and Fire Fighters' (LEOFF) Retirement System
LEOFF Plan 2 is a defined benefit plan, a retirement plan in which your benefit is based on a formula rather than an account balance. The formula provides a monthly benefit based on your years of service and your Final Average Salary. When you meet plan requirements and retire, you are guaranteed a monthly benefit for the rest of your life.
You, your employer, and the state each contribute a percentage of your salary or wages to help fund the plan. The LEOFF Plan 2 Retirement Board adopts contribution rates and periodically adjusts them to reflect the overall cost of the plan.
You are vested in the plan when you have five years of service credit. Once you are vested, you have earned the right to a future monthly benefit. You are eligible to retire with a full benefit at age 53 if you have at least five years of service credit. Retirement before 53 is considered an early retirement. If you have at least 20 years of service credit and are at least age 50, you can choose to retire early, but your benefit might be reduced.
Specialty training opportunities

High angle rope rescue
Swift water rescue
Fireboat and shipboard firefighting crews
Tiller truck operations
Hazardous materials response
Confined space and trench rescue
Structural collapse rescue
Public Information Officer
SCBA Technician
Honor Guard
Tuition reimbursement program and opportunities for career advancement
Application Process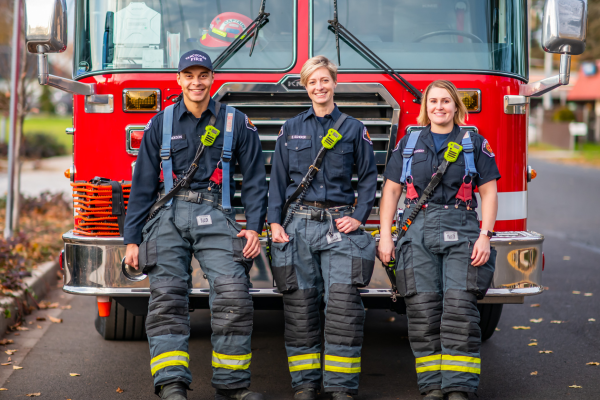 Three-Step Process
Complete a written exam through Public Safety Testing (NOT REQUIRED FOR LATERAL APPLICANTS)
Pass a licensed Candidate Physical Ability Test within the last six months (NOT REQUIRED FOR LATERAL APPLICANTS)
Submit a City of Vancouver Firefighter or Firefighter/Paramedic job application
Lateral Firefighter/Paramedic applications are open from September 19 to October 8. Entry-level Firefighter and Entry-level Firefighter/Paramedic applications are closed.
1) Written Exam (NOT REQUIRED FOR LATERAL APPLICANTS)
The Public Safety Testing (PST) written exam may be taken from home, but many prefer to take it in person and there are several opportunities to do so listed on the PST Test and Event Calendar. Vancouver Fire is hosting a PST written exam in Vancouver on Saturday, Sept. 9.
2) Candidate Physical Ability Test (CPAT) (NOT REQUIRED FOR LATERAL APPLICANTS)
VFD will accept a CPAT passing result from any licensed testing location in the United States or Canada. Detailed information about the CPAT is available at the following links for licensed CPAT testing locations in Washington and Oregon. The CPAT must be completed within six months of the date of application closure. If not taken through PST, the CPAT certificate of completion must be emailed to Megan Mairs (Megan.Mairs@cityofvancouver.us) prior to the application closing date.
3) City of Vancouver Application
All applicants must also complete a City of Vancouver job application at the link below. After the application process has closed on October 8, selected applicants will be invited to in-person interviews to take place October 20-21. To be hired, applicants must be able to score well in a panel interview, pass a thorough background investigation, do well in a Chief's interview and successfully complete psychological and medical testing.
About the City of Vancouver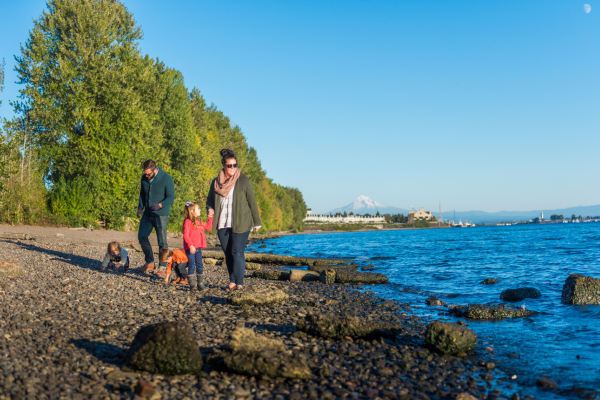 Life is better in Vancouver
The City of Vancouver is the fourth largest city in the state of Washington. Located directly across from Portland, Oregon on the North bank of the Columbia River, Vancouver combines the excitement of a major metropolitan area with small-town charm. Vancouver offers quality schools, a favorable tax climate, affordable housing, livable neighborhoods and an abundance of recreational opportunities.