1910-1937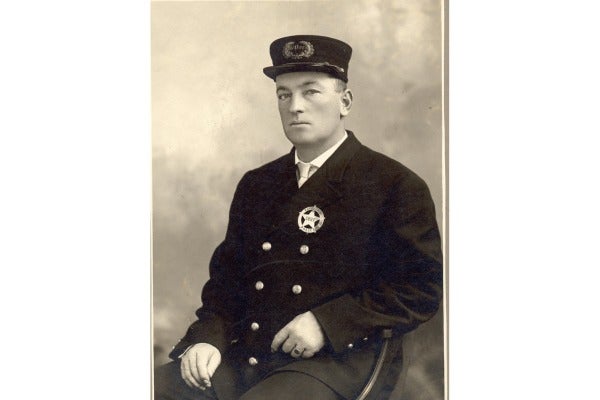 John Secrist became the first leader of the department to be referred to as Chief in 1910. He stepped down as Chief on January 6, 1914.
In 1911, a police motorcycle was purchased by the city. From a Oregonian article: "The motorcycle is built for two, so that in case a policeman arrests a man and makes him prisoner, he can put him on the back seat and take him to jail."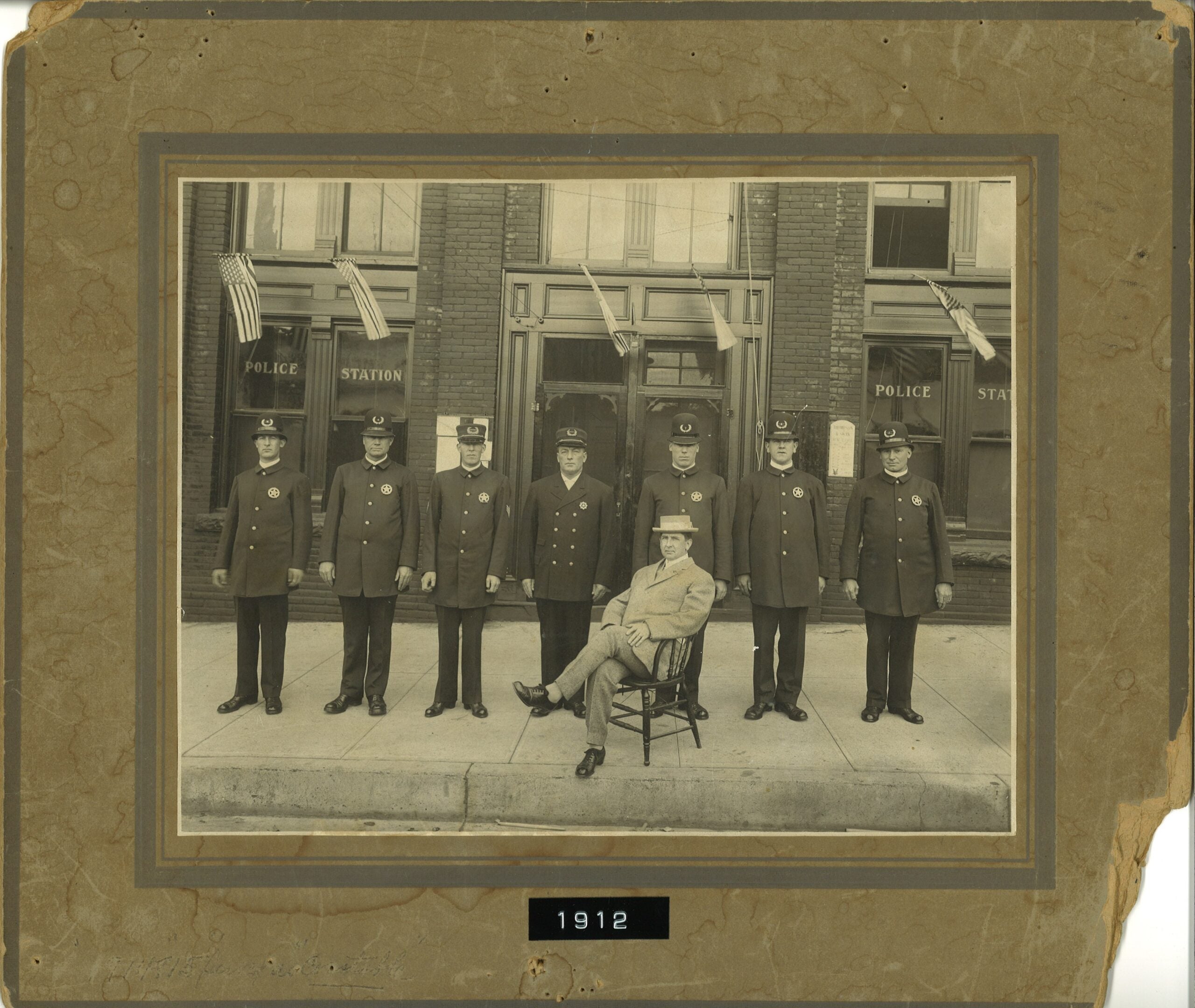 Vancouver Police Department group with Mayor Irwin, in front of the police station at 710 Washington St., 1912. From left: Officer Fred Rafferty, Sergeant Clarence McCurdy, unknown, Chief John Secrist, Officer McCloud, unknown, Officer Henry Burgy; Mayor C.S. Irwin seated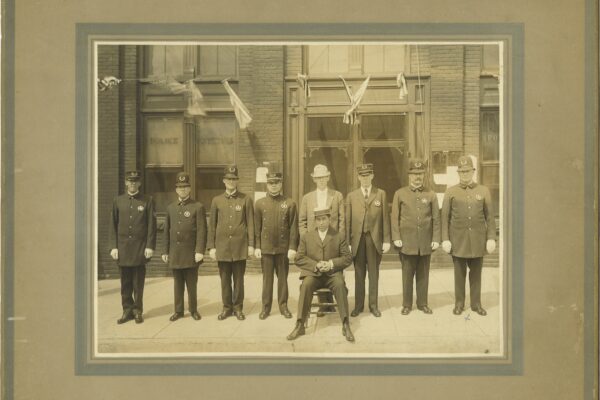 In this photograph, the Vancouver Police Department poses in front of the police station/city hall at 710 Washington St., around 1913. Far right, standing: Officer Henry Burgy. Seated: Mayor Henry Crass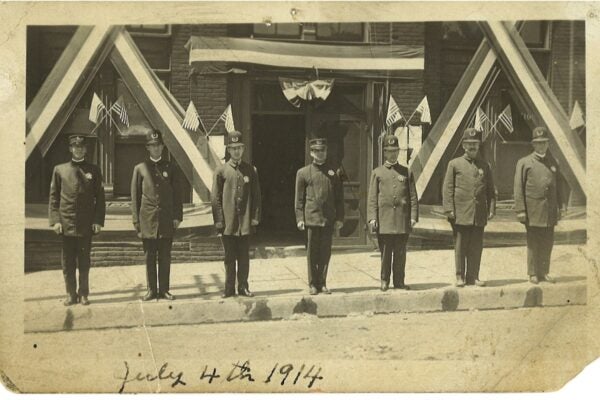 Vancouver Police officers stand in front of police station/city hall (710 Washington St.) on the 4th of July, 1914.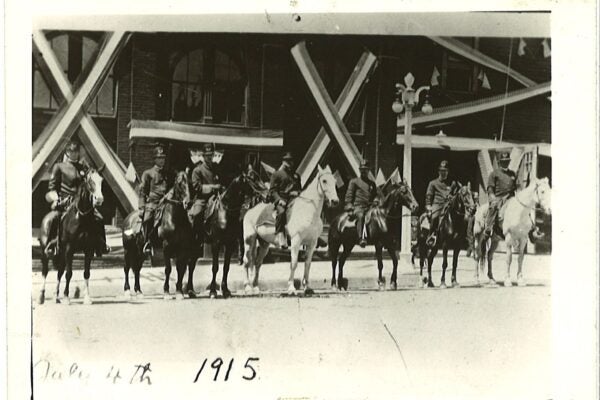 At right, Vancouver Police officers on horseback on the 4th of July, 1915.
In 1917, the Interstate Bridge was completed, connecting Vancouver with Portland via Washington Street.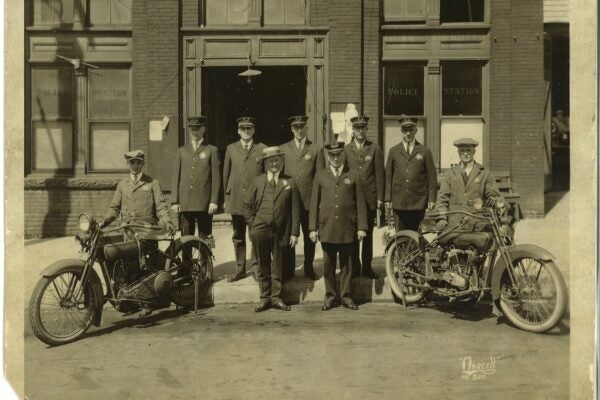 The Vancouver Police Department stands in front of the City Hall/Police station on Washington Street, 1921.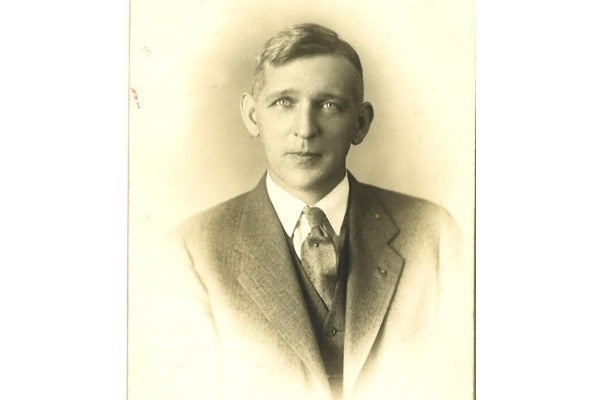 Raymond Arthur Beman, pictured at right, in 1920. R. A. Beman later served as Chief from October 1926 to January 1927.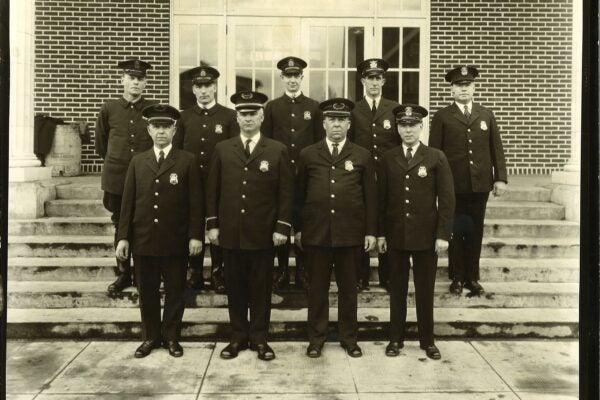 VPD in front of Memorial Hall, at 13th and Broadway Streets, 1927. Front row, from left: Officer Thompson, Chief Ira Cresap, Sergeant George Sanford, Officer Henry Thibodeaux. Back row, from left: Officer Ole Abrahamson, unknown, Officer Meador, Officer Fred Rafferty, Officer Charles Carter.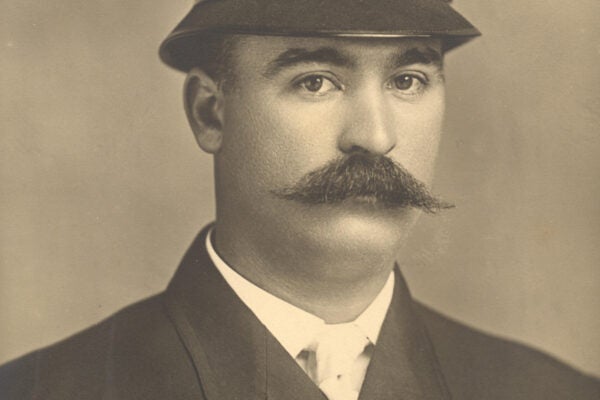 Officer Ira Cresap in his Vancouver Police Department uniform, around 1910. Image courtesy of the Clark County Historical Museum.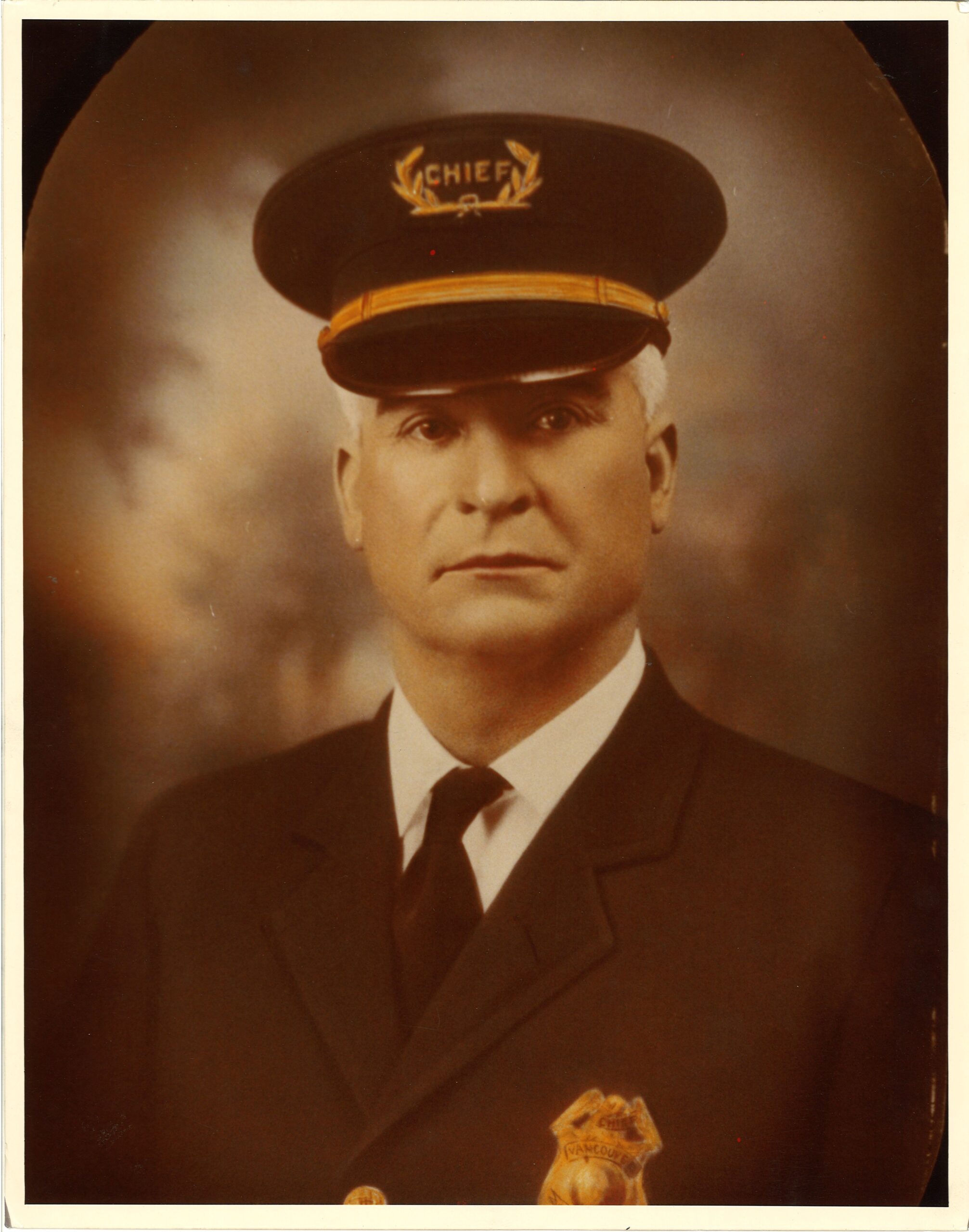 At left, Chief Ira Cresap in 1930.
Ira Cresap had a long career in law enforcement. A veteran of the Spanish-American War, Ira was an Officer with the Vancouver Police Department from around 1908 to 1910, resigning to run for Sheriff of Clark County. He served two terms as Sheriff, serving from 1911 to 1927.
He once chased down a criminal who had held up the Capitol Hill streetcar, chasing him through the railroad roundhouse at 39th Street. The man turned and fired a shot at Cresap. The bullet bounced off his Elks pin and hit him in the neck. He wrapped his handkerchief around his neck and continued to give chase, running down and capturing the suspect. Story courtesy of Pat Jollota.
He was appointed Chief by Mayor John Kiggins in 1927, serving until 1935.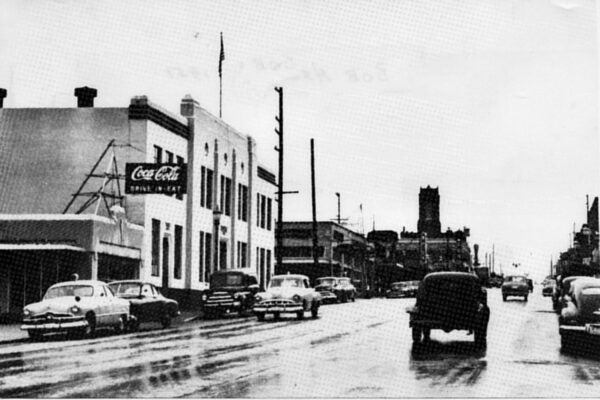 At right, the 1929 City Hall, located at 8th and Washington Streets.
The day after the stock market crashed in 1929, Mayor Kiggins ordered that a new City Hall building be built where the old City Hall was (710 Washington St.). The new City Hall building had two floors plus the basement and included the fire department, police department and jail. The new building was much larger than the former one dating from 1891, taking up almost the whole block instead of just a small part of it. The Police Station faced Washington Street. This building was used by the City until the mid-1960s. It eventually became part of the Lucky Lager Brewing Company complex before being demolished in the 1990s.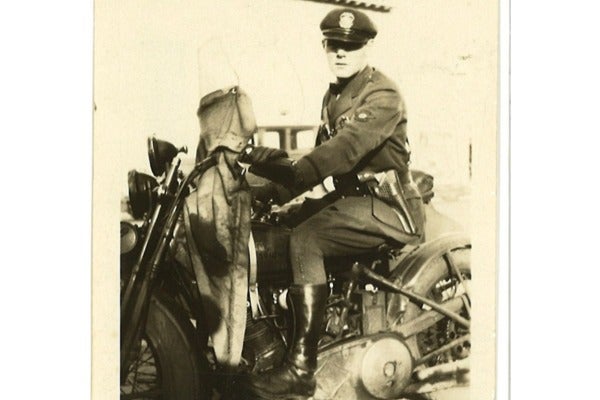 Officer Harry Wood on motorcycle, 1929.
In 1930, Vancouver's population was 15,766. The Vancouver Police Department reportedly had 13 officers, 2 automobiles, and 1 motorcycle that year.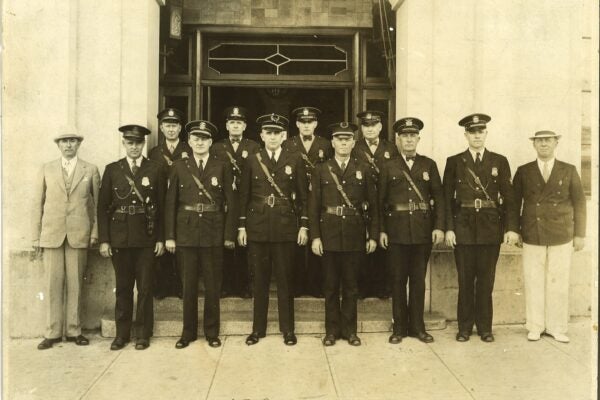 At right, the department showing new uniform designs in 1935, in front of the city hall/police station at 710 Washington Street. First row, from left: Police Commissioner James Padden, Officer Rueben Barney, Sergeant Barry Raguse, Chief Frank Osmond, Sergeant Ole Abrahamson, Officer Fred Rafferty, Officer Harry Diamond (later Chief), unknown. Second row: Officer Edward Bennett, Officer Thurston, Officer Harry Wood, Officer Charles Carter.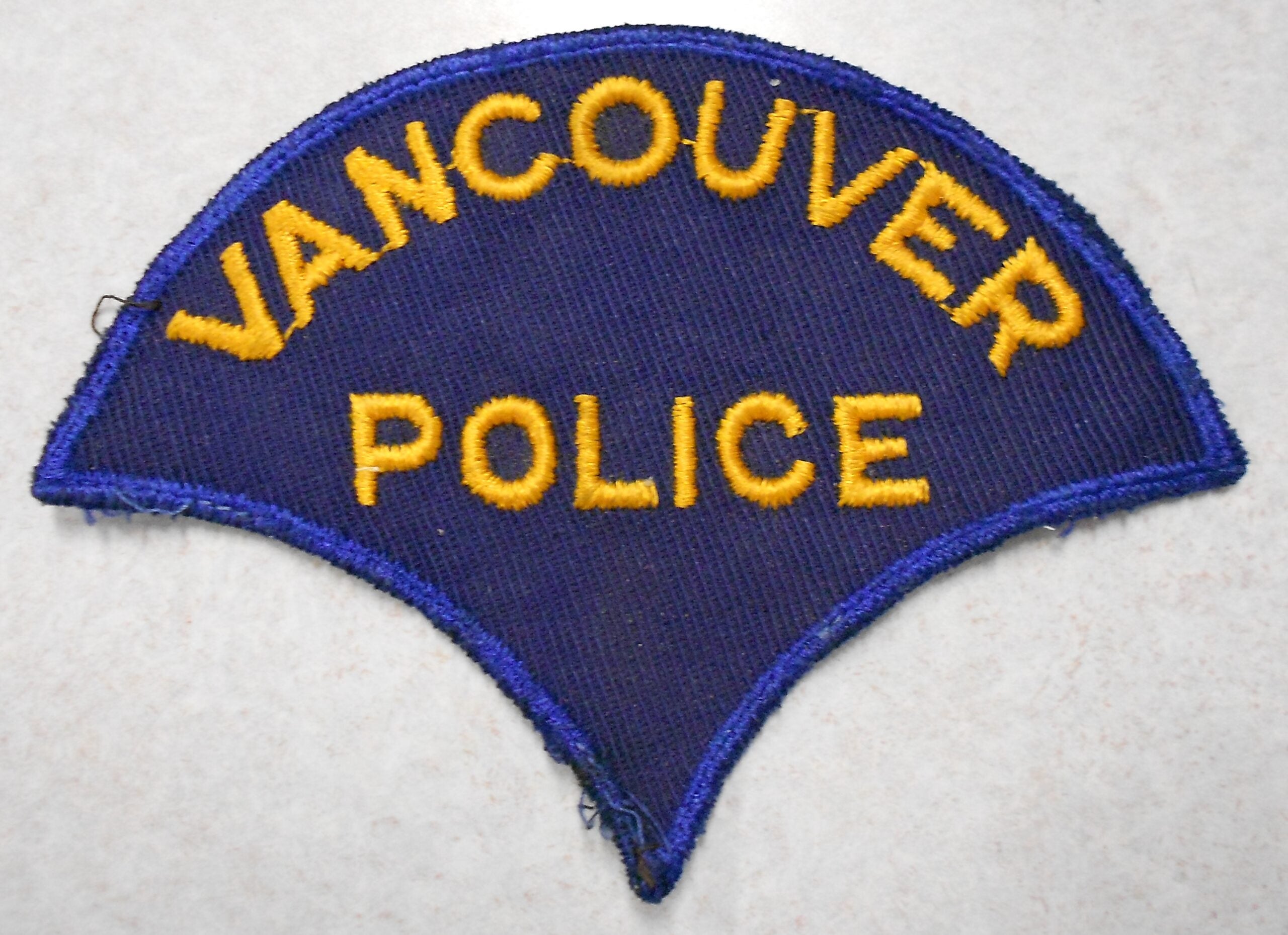 Above, the Vancouver Police Department shoulder patch worn from the mid-1930s to the mid-1950s.
The first civil service examination for the Vancouver Police Department was given on December 18, 1937. John Blaker became the first Vancouver Police Chief appointed under civil service. Of the 11 officers working for the department in 1937, only 9 passed the civil service examination. The position of Captain was established in 1938, and was initially filled by Sergeant B.W. Raguse.