1937-1962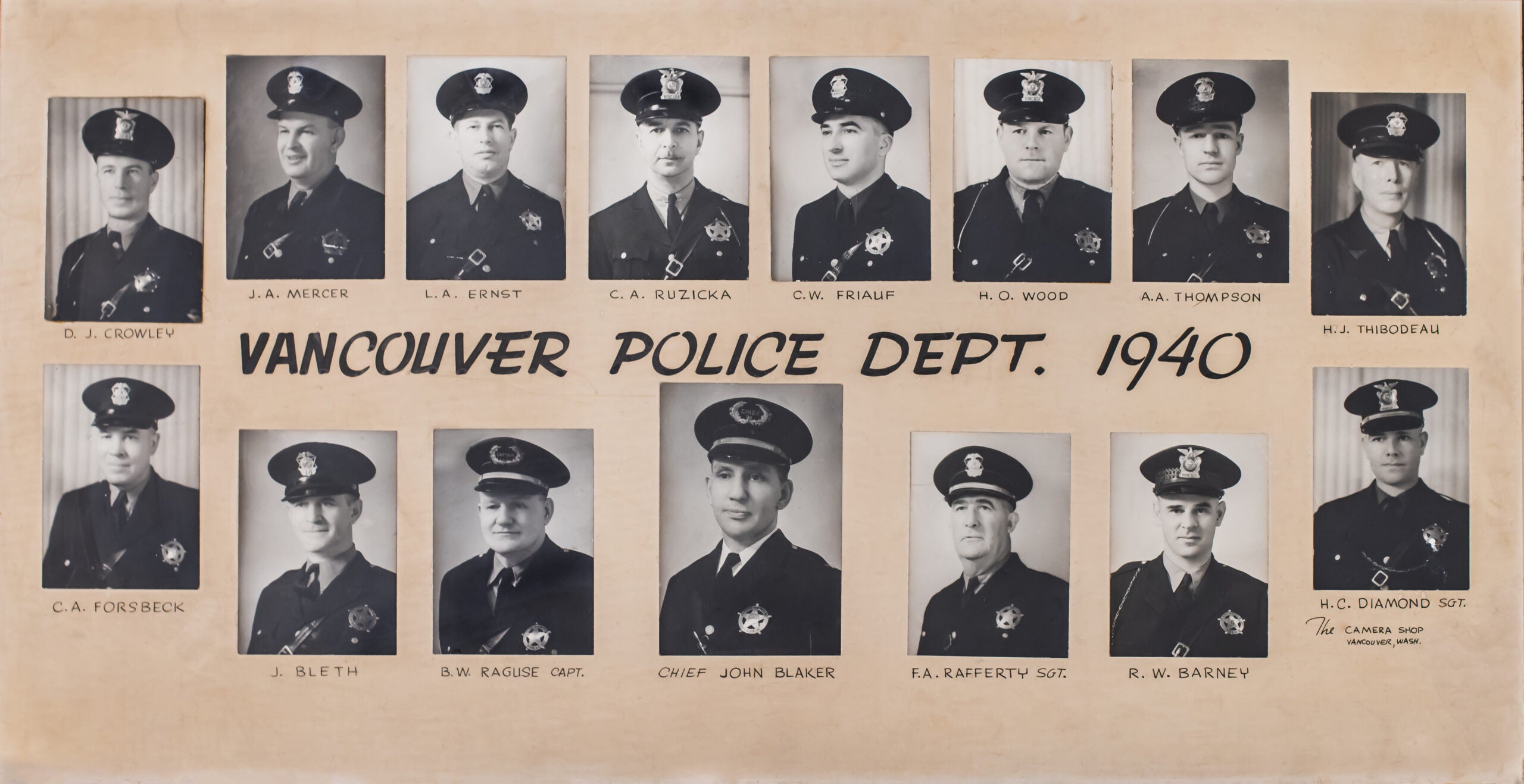 Pictured, the Vancouver Police Department in 1940.
The city had a population of 18,788 in 1940. The Vancouver Police Department in 1940 consisted of 15 police officers, including 1 Chief, 1 Captain, 2 Sergeants, and 11 Patrol Officers.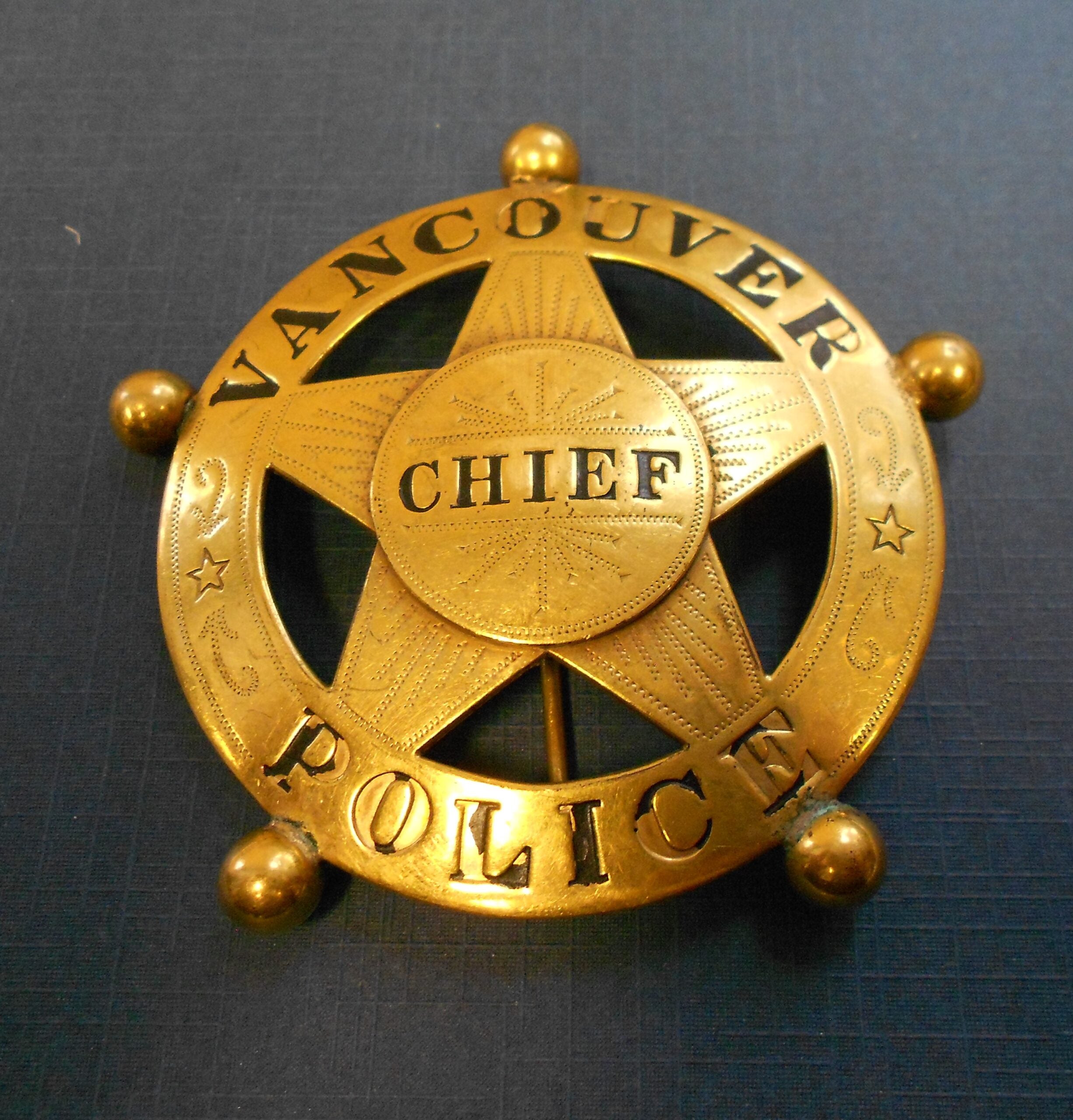 Chief's badge. Worn by Chief John Blaker in the 1940 group photograph.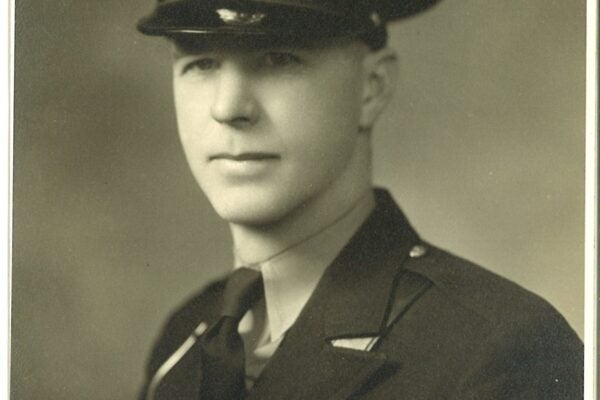 Officer Dewey Crowley, 1940.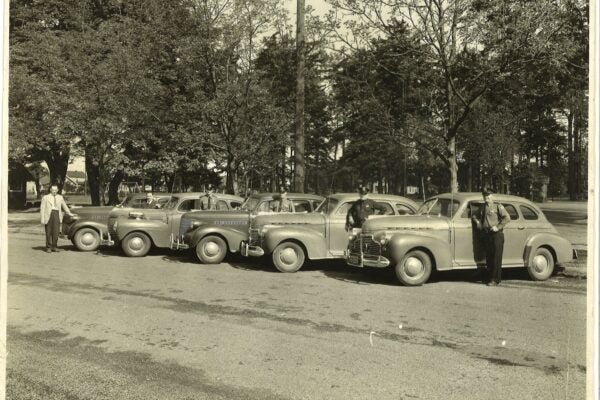 Vancouver Police officers and cars at Esther Short park, 1941.
By 1941, the Vancouver Police Department was using automobiles.
During World War II, shipbuilding at the Kaiser Shipyards created many new jobs and resulted in a dramatic population increase.
This increase led to temporary police locations in two of the largest housing complexes for war defense workers, Columbia House and Hudson House.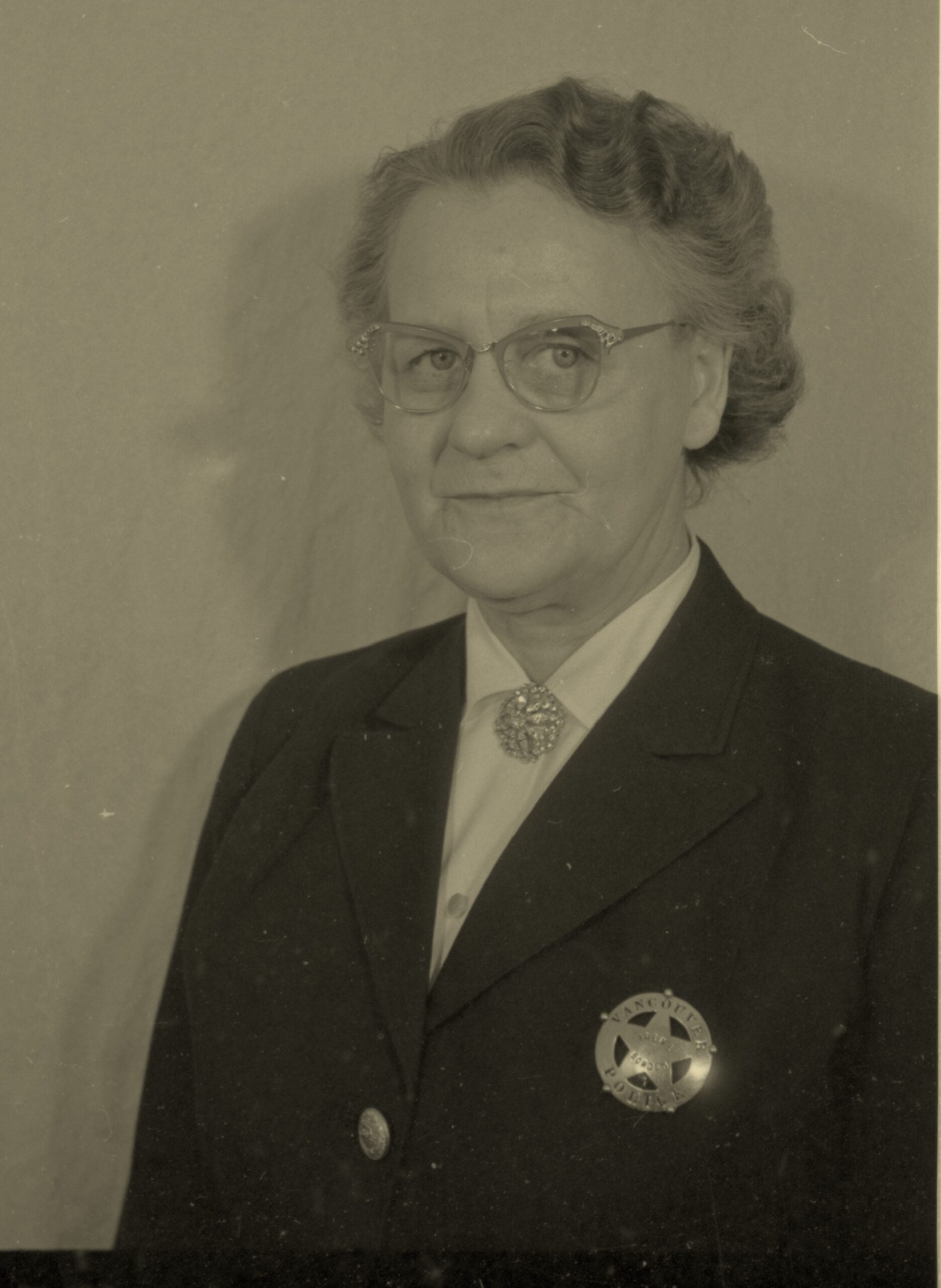 At this time that the first women were hired by the Vancouver Police Department as police matrons. Also called "Matron-Police", these women were issued badges, and had charge of women and children detained. The first women appointed for these positions were Mae Christensen, Florence Rusicka, and Irene Borden.
At right is a photograph of Irene Borden, in 1962. Irene was one of the first "Matron-Police", hired in 1943. From 1939 to 1943 she served as the first female Sheriff of Skamania County. She became a policewoman later in her career with the Vancouver Police Department, and she retired in 1968.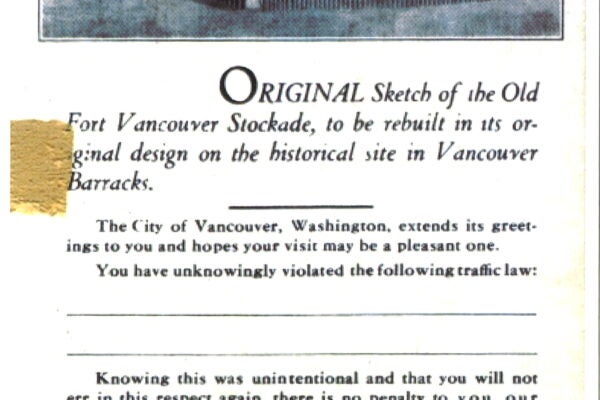 Vancouver Police Department traffic law warning. Dating from Chief John Blaker's tenure, from 1937 to 1945.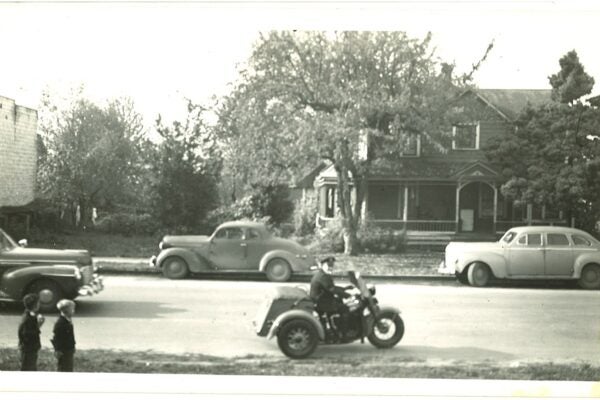 Sergeant Forsbeck on motorcycle watched by two children, 1940s, at right.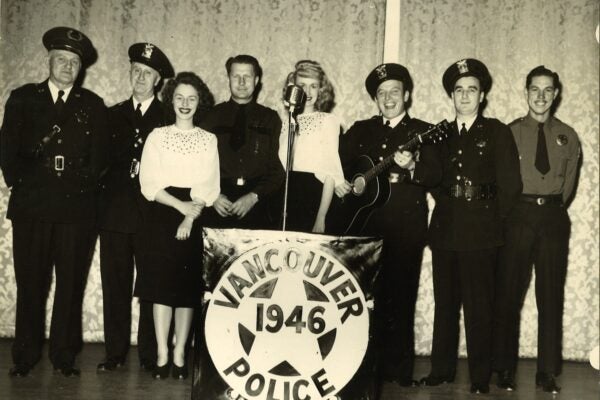 Above, The Songsters music group, 1946. From the left: Captain Barry Raguse, Detective Floyd Borgan, Secretary Doris Ward, Captain Ed Mayo, Secretary Inez Thompson, Officer Tommy Thompson, Officer Robert Russell, Officer Benjamin Buskirk. This group was made up entirely of Vancouver Police Department officers and staff, including future Chief, Ed Mayo. They performed locally and throughout the Pacific Northwest.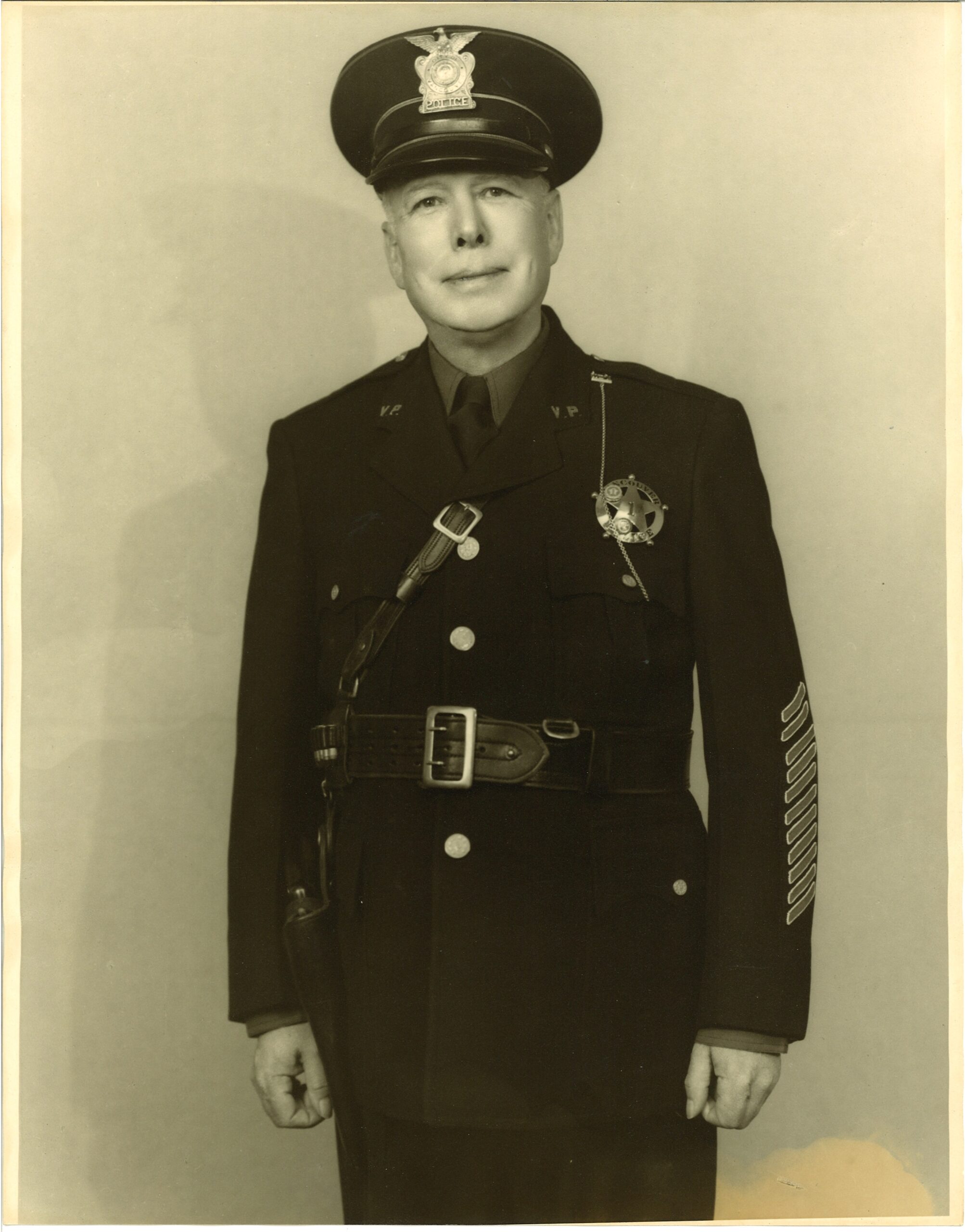 A photograph of Henry Joseph Thibodeux, Vancouver Police Department officer from 1913 to 1949. Note the many service stripes on his uniform sleeve, denoting his many years with the department.
Above, the entire department in front of the Clark County courthouse, 1948. Chief Harry Diamond is front row, center.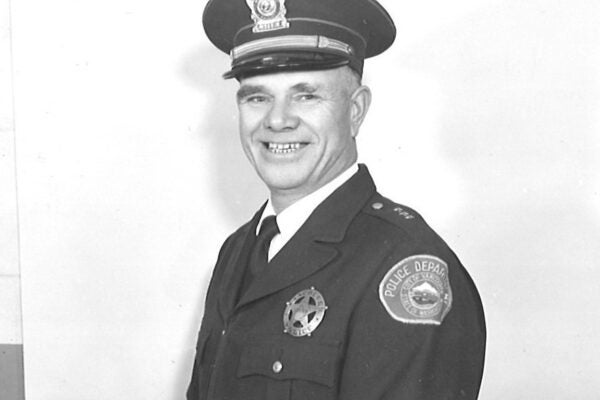 Chief Harry Diamond, 1945-1962
At right, Chief Diamond is pictured in 1962. Chief Diamond is the Vancouver Police Department's longest serving Chief, from 1945 to 1962. He joined the department in 1935. He guarded the Russian North Pole flyers and their aircraft when they landed at Pearson Airfield in 1937. As Chief, he ran the department during the change-filled post war years and was closely involved in the Dewey murder investigation and capture of the suspects. After retiring as Chief in 1962, Harry went on to serve as chief deputy at the US Marshal's office in Seattle. Diamond Park, located at Northeast 148th Avenue and 33rd Street, is named after him.
News-clipping of The Columbian's headline concerning the disappearance of JoAnn Dewey. In 1950, JoAnn was abducted from a street in Vancouver and later found dead. Her disappearance, discovery, and murder trail dominated the local news and impacted the local area for many years. Many members of the Vancouver Police Department were closely involved in the investigation and trial.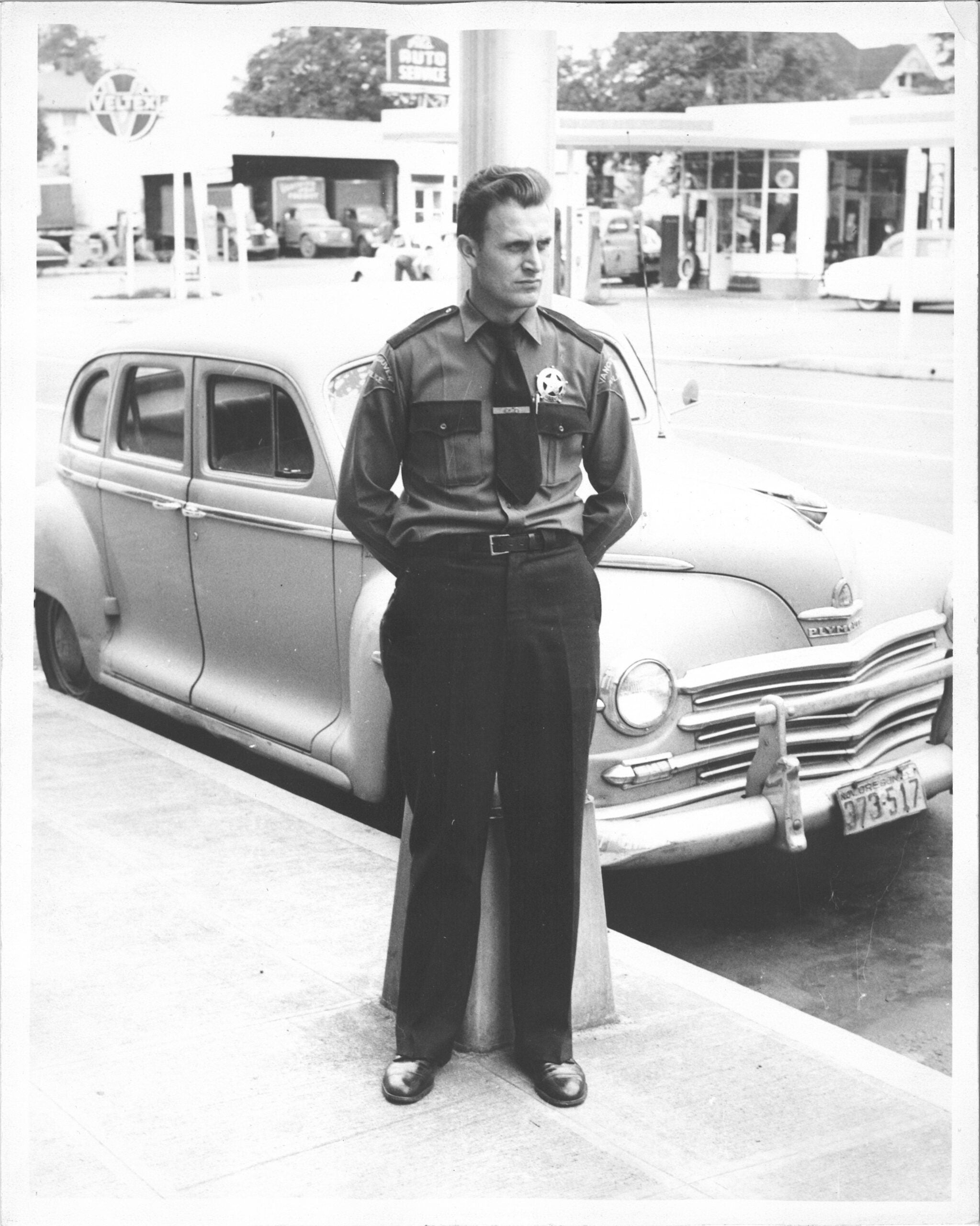 At right is Officer Lindo "Lindy" Albrici standing in front of vehicle. Late 1940s to early 1950s. Image courtesy of Katie Albrici.
Two-way radios were installed in the late 1940s. Before this, the Vancouver Police Department had only one-way radios, requiring them to call the Portland Police Bureau to have the messages relayed. At this same time, there was a light overhead at the intersection of 7th Street and Main Street. When that light came on, all police personnel had to call or go immediately to the Police Station.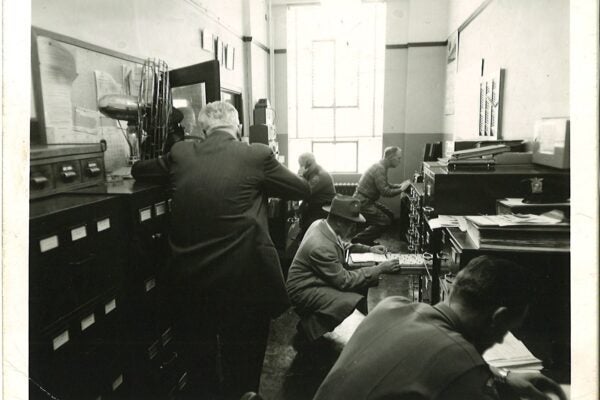 Above, the Vancouver Police records room, 8th and Washington location, around 1950.
In 1950, Vancouver had a population of 41,664.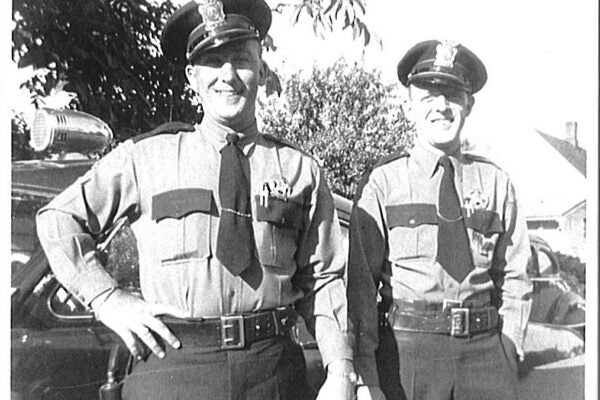 At right, Officer Jack Lair and Officer Bob Axlund, after 1951. They made up the two person Traffic Unit.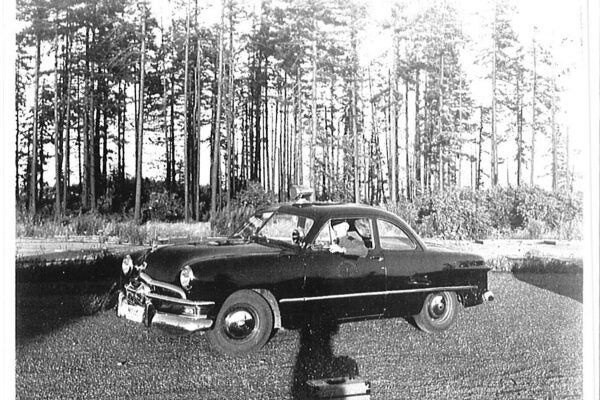 Vancouver Police Department Traffic Unit vehicle, early 1950s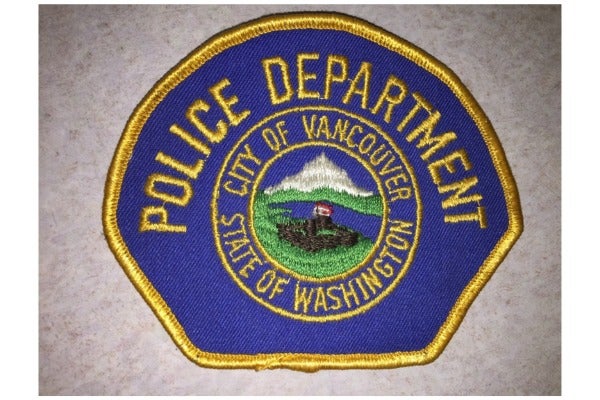 Employment testing for Vancouver Police Department in 1952 included a written test and a medical examination, with strict guidelines for an applicant's weight. New officer training consisted primarily of riding with other officers. When available, officers also attended training lectures taught by the FBI, practiced at the FBI range, and took first aid training.
Pictured, a Vancouver Police Department shoulder patch. This style was in use from the mid-1950s to around 1978.
In 1952, the Vancouver Police Department had 35 officers. Each officer was issued one hat badge and two shirt badges – officers were expected to buy the rest of their equipment. Police cars at this time were equipped with a few flares, a small first aid kit, a fire extinguisher, a blanket, a shotgun, and a police radio. Vancouver Police officers in 1952 worked an 8-hour day, with 10 days on and only 3 days off.
In 1960, Vancouver's population was 32,464.