1962-1985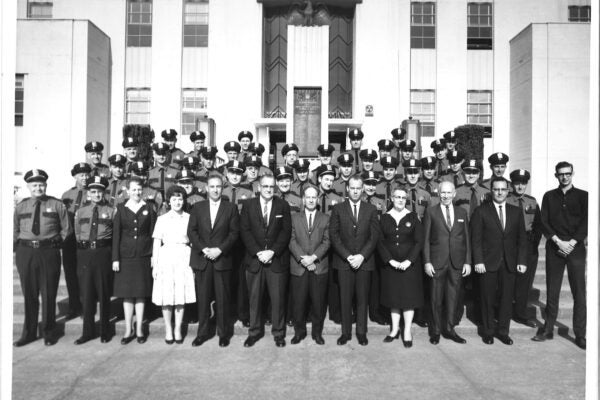 At right, a Vancouver Police Department group photograph in front of the Clark County Courthouse, April 1965.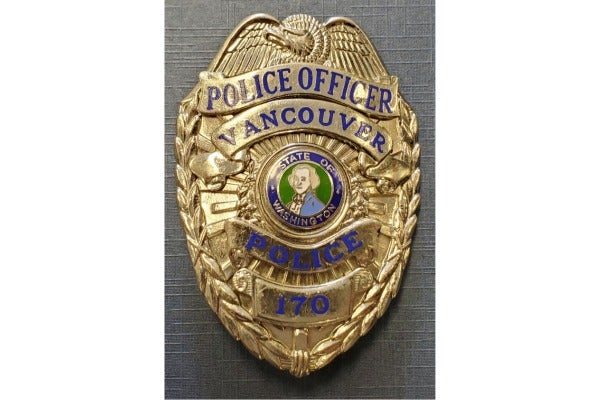 Above, an example of the style of badge in use from around 1966 to around 1999.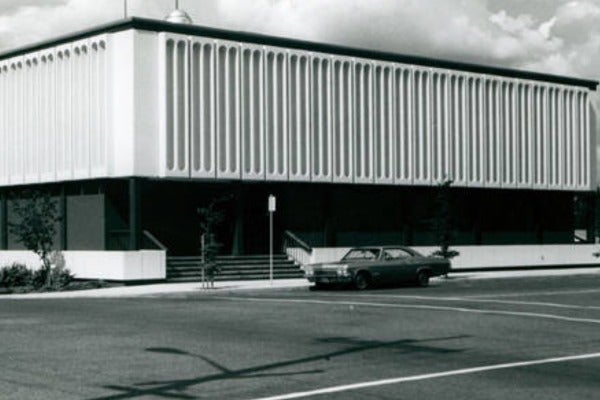 In 1965 the police department moved into the former Carpenter's Union Hall at 300 E 13th Street. By 1968 this building was replaced by a building with matching architectural style to the new city hall building across C St and linked by an underground tunnel. On the right as a photograph of the new Vancouver Police Building in 1968. This building was used by the department from the mid-1960s to 2002 and was located at 300 East 13th Street. Image courtesy of the Clark County Historical Museum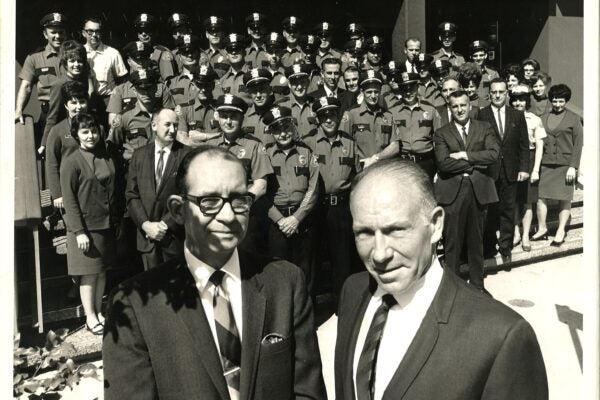 Above, a Vancouver Police Department group photo in front of police building at 300 E. 13th Street. In front, from left: Cal Davis, Chief Eugene White. 1968-1969. Cal Davis succeeded Eugene White as Chief in 1969.
The population of Vancouver in 1970 was 41,859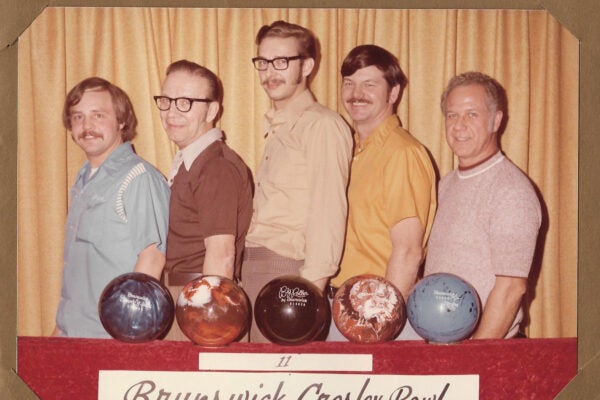 On the right, the Vancouver Police Department bowling team, early 1970s. Image courtesy of Jeff Taylor.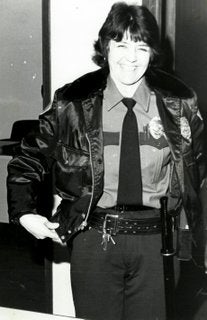 Above is a photograph of Linda Griffith, an early female officer with the Vancouver Police Department, in her uniform, taken in the late 1970s/early 1980s. Linda began her career in law enforcement in 1968, while in 1977 Beth Chaffee (later Knuth) was hired as the first female police officer to go on patrol for the Vancouver Police Department.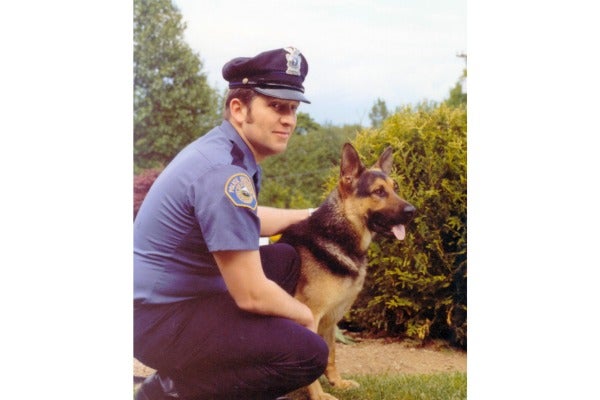 At right, Officer Wayne Storm with the Vancouver Police Department's first K9, Bronson, in 1977.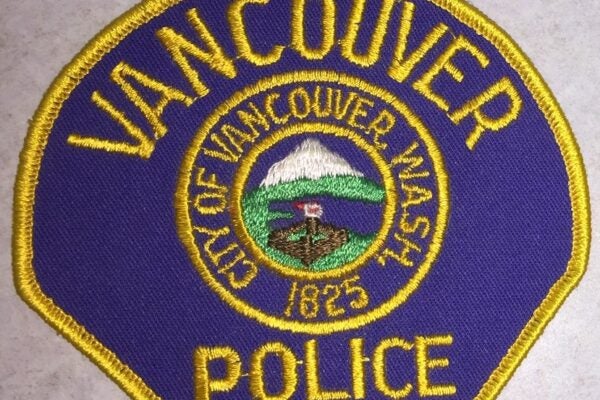 Above, the Vancouver Police Department shoulder patch in use from about 1978 to 1999.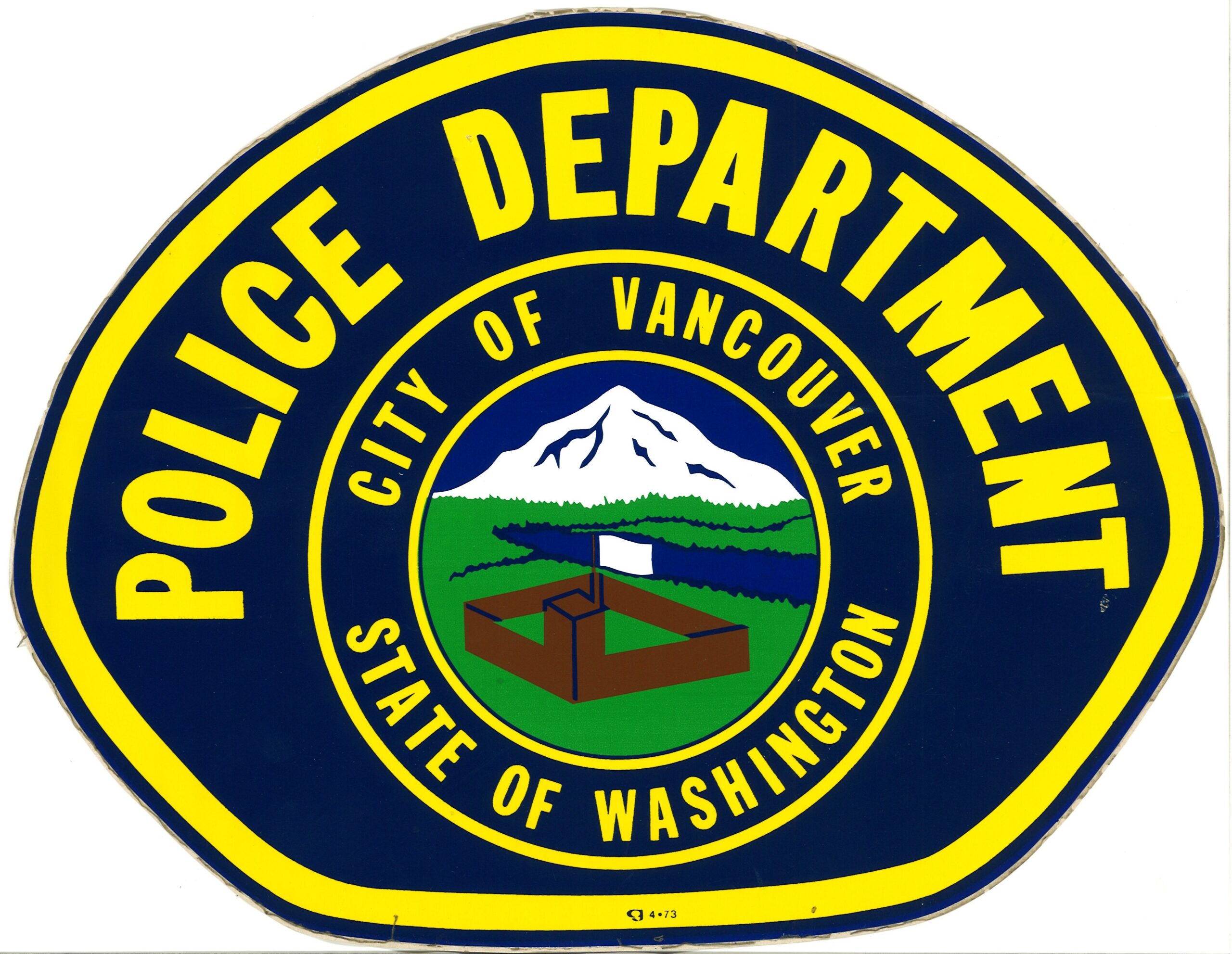 At right, a patrol car door decal, 1979.
In 1980, the police academy training lasted for 3 months. Dispatch services were moved to the basement of City Hall.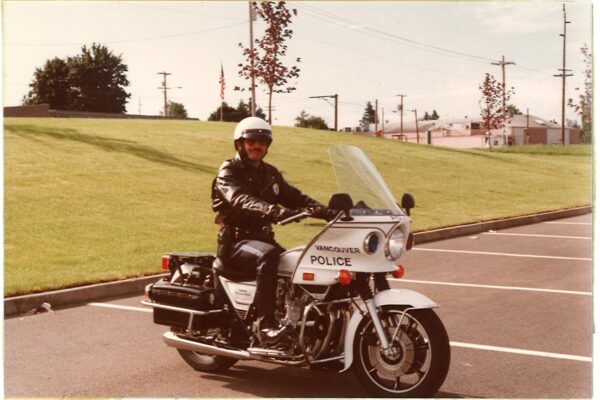 Above, a photograph of Motorcycle Officer Marc Swafford dating from 1982. Marc is on a 1981 Kawasaki 1000cc motorcycle. In 1981 the Motorcycle program had been reinstated after a hiatus of some years; three officers (Marc Swafford, Rick Carter, and Tom Gibson) trained with the Gresham Police Department Motorcycle division.
In 1984, the Vancouver Police Department discontinued use of its jail and transported prisoners to the Clark County jail instead. In that year, the department had 1 Chief, 3 Captains, 4 Lieutenants, 14 Sergeants, 15 Corporals, 36 Officers, and 15 civilian employees.