Brownfields Assessments Project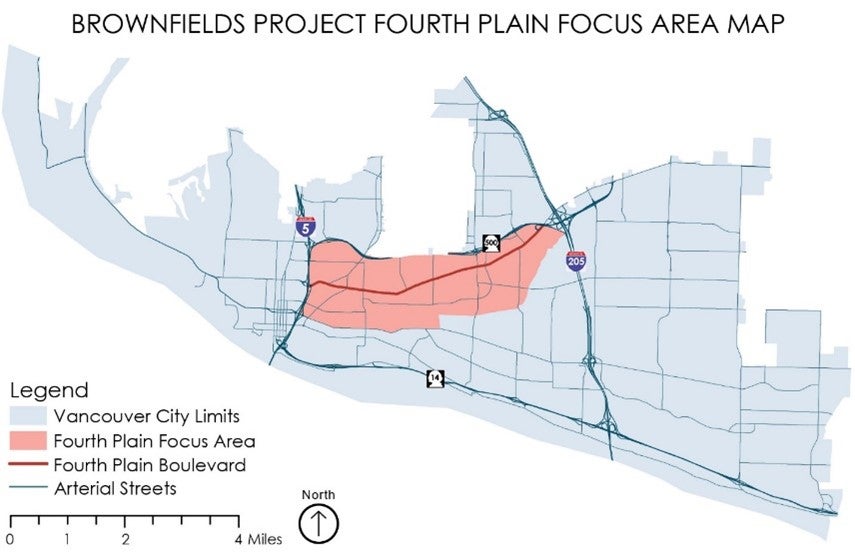 Get Involved
There will be opportunities for community involvement and public input at key milestones over the course of the project.
Project Overview
The City of Vancouver, in partnership with Clark County Public Health (CCPH) and the Vancouver Housing Authority (VHA) was recently awarded a $600,000 Brownfields Coalition Grant from the U.S. Environmental Protection Agency. The grant will be used to update the existing brownfields site inventory for the City, expand the inventory to include other potential sites in Clark County, conduct environmental assessments on key individual sites to determine contaminants and issues involved, and develop clean-up plans, if needed.
This project prioritizes assessments in the Fourth Plain focus area located in central Vancouver but will also include other potential sites throughout Clark County.
Specifically, the Brownfields Assessments project will do the following over the next three years:
Update the City's inventory of potential brownfields sites to include the expanded Clark County geography (the original was completed with a 2013 EPA Brownfields Community-Wide Assessment Grant and only addresses City of Vancouver potential brownfields sites)
Complete at least 15 Phase I Environmental Site Assessments (ESAs) (10 ESAs to be included in the Fourth Plan area)
Complete at least 12 Phase II ESAs (8 ESAs to be included in the Fourth Plain area)
Prepare an Analysis of Brownfield Cleanup Alternatives (ABCA) at one hazardous substance site and one petroleum site
Develop an Area-Wide Plan (AWP) and a Final Cleanup Plan for up to two brownfield impacted areas, potentially including real estate market analysis, infrastructure assessment, conceptual reuse planning and design, and targeted community outreach and engagement
As of October 2023, the grant has supported environmental site assessments and/or planning work at 23 sites across Vancouver and Clark County, including eight sites within the Fourth Plain focus area. See the table below for more details.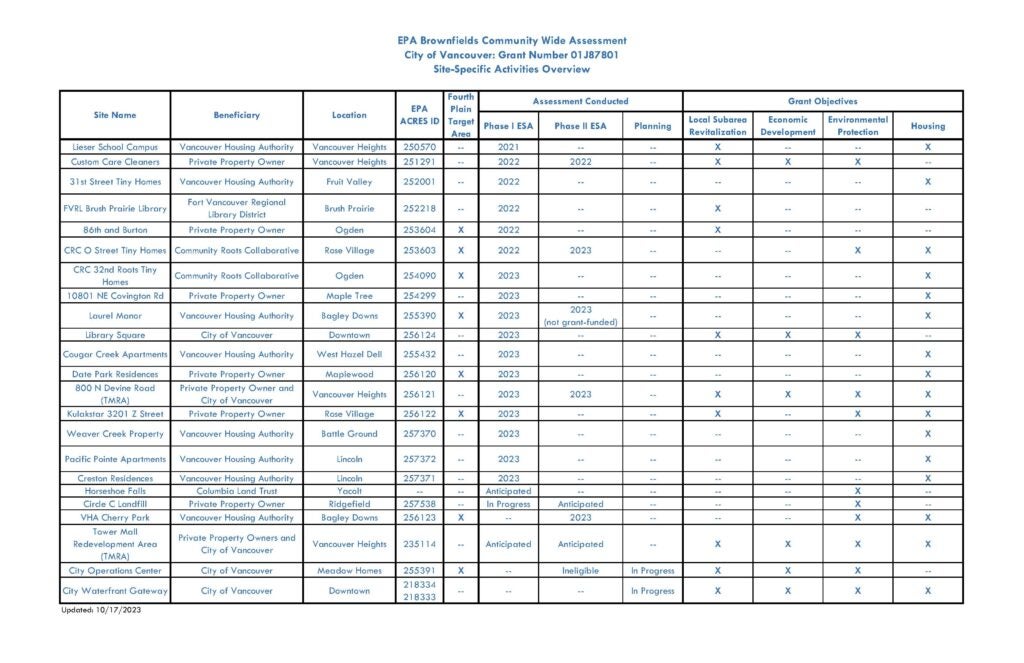 Brownfields Advisory Committee
A Brownfields Advisory Committee (BAC) will provide guidance and oversight to the project team throughout the term of the grant. The BAC will meet several times a year over the course of the project term and includes strong representation from the Fourth Plain focus area. BAC members represent the following stakeholders:
City of Vancouver Economic Prosperity and Housing Department
City of Vancouver Parks, Recreation & Cultural Services Department
Fourth Plain Forward nonprofit
Fourth Plain residents
Habitat for Humanity
League of United Latin American Citizens (LULAC)
Vancouver Housing Authority
Vietnamese Community Association
Previous Brownfield Accomplishments
2013 EPA Brownfields Grant Projects
In 2013, the City of Vancouver was awarded an EPA Brownfields Community Wide Planning Grant, which was used to establish a citywide brownfields site inventory and conduct environmental assessments on key individual sites. 14 Phase I and/or II Environmental Site Assessments (ESAs) and two remediation plans were completed, and the City was able to prepare several brownfields sites for future redevelopment. Key accomplishments include:
Block 10 – 801 Columbia St

Block 10, informally known as Heritage Square, was an undeveloped city block located in the heart of downtown Vancouver between Columbia and Washington streets and 8th and 9th streets. It was one of the last remaining undeveloped blocks in the downtown area.
The City of Vancouver purchased the block in 1993 for future redevelopment and utilized the 2013 EPA Brownfields grant to perform a Phase I and Phase II Environmental Site Assessment (ESA) on the property to support future redevelopment.
In May 2020, the City of Vancouver sold Block 10 to Holland Partner Group for redevelopment. The project includes:
Two distinct four-story towers above a two-story shared parking garage and first floor retail space
One tower will offer 79,000 square feet of office space
The other tower will have 110 apartment units – 20% of the units will be more affordable, "workforce" housing
A 114-space parking garage
Ground-floor retail space (10,000 square feet)
Lower Grand Employment Area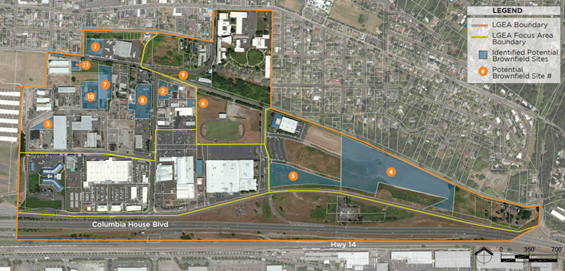 The City of Vancouver utilized the 2013 EPA Brownfields grant to work with businesses and property owners to identify and prioritize infrastructure improvements and environmental clean-up needs to address poor street conditions, localized flooding, and other concerns in the Lower Grand Employment Area (LGEA) that had hindered development.
Grant activities resulted in the development of multiple properties within the LGEA. It was expected to result in an investment of $60 million to yield 300,000-400,000 square feet of commercial office and retail space supporting 1,500-3,000 direct jobs having an estimated economic impact of $144-288 million in annual payroll and sales tax revenues of $3.4-6.3 million.
Files
FAQ
What is a brownfield?
According to the U.S. Environmental Protection Agency (EPA), a brownfield is defined as a property, the expansion, redevelopment, or reuse of which may be complicated by the presence or potential presence of hazardous substances, pollutants, contaminants, controlled substances, petroleum or petroleum products, or is mine-scarred land.
What are the impacts of brownfields on communities?
The impacts of brownfields can extend beyond the boundaries of the property to affect the surrounding community and environment. Left in their current state, these properties can:
Harm human health and the environment
Become eyesores and contribute to blight
Limit economic growth and development
Reduce employment opportunities and tax revenue
Reduce surrounding property values
Contribute to neighborhood crime
People often think of contaminated properties as large factories in big cities, but most sites are small properties such as former gas stations, repair shops, and dry cleaners. In smaller communities the impact of these sites can be disproportionately large.
What does it mean for a property to be "contaminated?"
There are two main categories of contamination: hazardous substances and petroleum:
Hazardous substances tend to include heavy metals (such as lead), chemicals used by the historic owner (such as those used for dry cleaning, wood treating, mechanical repair, etc.), and asbestos in old structures.
Petroleum is often found around old automotive shops and gas stations that have or had underground storage tanks, fueling operations, and used petroleum products for operations.
What does it mean for a property to be "cleaned up?"
There are essentially three ways to clean up a property:
Dig & Haul: Dig out contaminated soil and haul it away
Treat in Place: Use technologies, such as injection of chemicals to break down the contamination, that can treat the soil or groundwater in the ground
Engineering Controls: Measures that bound contamination so that it is contained in place. An example of engineered controls includes placing a layer of clean material over contaminated soils to limit contact with contamination.

These options vary in price and the extent to which the contamination is fully removed. It is rare that every inch of contaminated soil must be removed from a property. What cleanup really does is break the pathways of exposure. This means figuring out how humans and the environment could be exposed to contamination (i.e. through breathing in vapors, coming into contact with soil, or drinking the water) and putting in barriers to keep that from happening, such as vapor barriers, soil caps, and water treatment.
The extent to which contaminated soil or groundwater needs to be removed depends on how the affected property will be used. If the site is going to be used for new offices, the office building and parking lot can act as a cap that prevents contact with the subsurface contamination. Whereas, if the site is going to become a park where people frequently come into contact with the soil or groundwater, some amount of dig and haul may be required to eliminate exposure.
If my property is contaminated, am I responsible for cleaning it up?
The legal framework around a contaminated property is built so that the current property owner is responsible even if he/she did not cause the pollution – unless they have been granted liability protection from the Washington State Department of Ecology (Ecology). City staff can help explain these programs if you are concerned or interested.
How can this grant help me if I think my property is contaminated?
The grant funds can provide funding for environmental investigations to help you find out if your property is contaminated or get documentation asserting that there is no reason to suspect contamination. If some contamination is found, the grant has funding available for up to two properties to create a plan to clean up the property and a market study to provide information about what types of development might suit the property. Remember that the extent (and thus cost) of cleanup depends on the future property use.
Wouldn't it be better to sell the property rather than do the environmental investigation and find out the property is contaminated?
While it is certainly a bit scary to suspect that your property might have some contamination, selling without an environmental investigation is hard to do. To get a loan to buy a property, most banks require a Phase I environmental site assessment (like the ones funded by the grant) before issuing the loan. By going through this process, the City can use these funds to help make the property more marketable if you wish to sell it.
What is a Phase I Environmental Site Assessment?
A Phase I Environmental Site Assessment (ESA) uses existing information to understand the property conditions by examining current and historical uses of the site and potential threats to human health or the environment. The Phase I ESA includes reviewing historical land uses; conducting environmental records review, site visits, interviews with property owners and operators; and preparing a comprehensive report that contains all of that information.
What is the purpose of a Phase I Environmental Site Assessment?
The purpose of conducting a Phase I environmental site assessment (ESA) is to obtain innocent landowner protections through an environmental due diligence process. A Phase I ESA gives property owners a liability defense and satisfies all appropriate inquiries. It is often required by lenders prior to developing land and can support decision making when deciding how the land should be developed.
What are the outcomes of a Phase I Environmental Site Assessment?
Once a Phase I Environmental Site Assessment (ESA) is completed the environmental conditions are documented and formalized. A recognized environmental condition is the presence or likely presence of any hazardous substances or petroleum products in, on, or at a property that could pose a threat to the environment and/or human health. The Phase I ESA also must be completed prior to a Phase II ESA.
What is a Phase II Environmental Site Assessment?
A Phase II Environmental Site Assessment (ESA) is conducted after a Phase I ESA and builds on the information gathered. The Phase II ESA includes sampling of soil, air, groundwater, and/or building materials and data analysis to evaluate the recognized environmental conditions identified in the Phase I ESA. The Phase II ESA determines sources of contamination and also assesses exposure pathways and cleanup scenarios.
What is an Analysis of Brownfield Cleanup Alternatives (ABCA)?
The Analysis of Brownfield Cleanup Alternatives (ABCA) is a feasibility study that develops and evaluates cleanup action alternatives for a site. An ABCA typically includes sections describing the background and current conditions of the site (maps, previous uses, assessment findings, reuse goals), applicable regulations and cleanup standards, an evaluation of cleanup alternatives and a recommended remedial action. The evaluation of cleanup alternatives is based on the effectiveness, ease of implementation and cost of each remedial action.
What will be included in the Area-Wide Plan (AWP) and Final Cleanup Plan?
The Area-Wide Plan and Final Cleanup Plan will provide direction for future brownfields cleanup, reuse and redevelopment for a particular site. The community will be engaged to ensure the plans reflect community priorities related to brownfields cleanup and near- and long-term revitalization of the property. The resulting plans will evaluate existing environmental conditions, local market potential and needed infrastructure improvements, develop strategies for site cleanup and reuse, and identify resources and strategies to help implement the plan.