Street Mural Program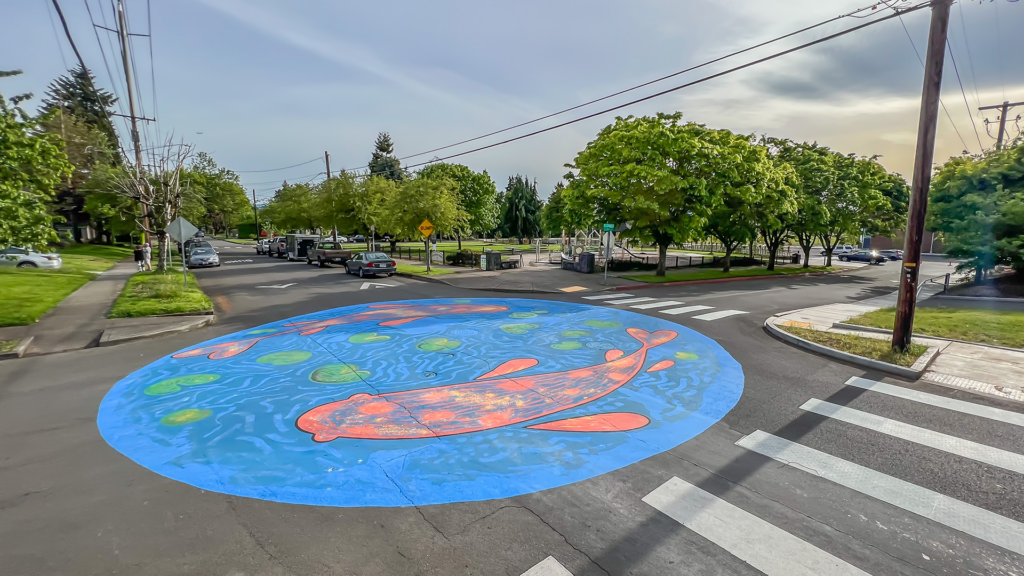 Street murals can help calm traffic by adding visual interest to a neighborhood street or intersection. Often, residents come together with an idea to paint a mural or design on the roadway to promote a sense of community pride, belonging, and fun in the neighborhood.
The City of Vancouver has developed a streamlined process for implementing street murals in residential areas. If you have more questions or an idea for a street mural, please send us an email at trafficcalmingprogram@cityofvancouver.us.
Street Mural Process
Get your neighborhood association involved. Share your idea with them and get their support. Learn what neighborhood you're in, and connect with Vancouver's Office of Neighborhoods to contact your Neighborhood Association Officers.
Reach out to your neighbors at the intersection where you'd like to paint a mural. The City requires that property owners who are directly adjacent to the intersection or location of the street mural provide written approval in support of the project. This can be done through a petition, letter or email to City staff at trafficcalmingprogram@cityofvancouver.us. We have developed several forms to help you with the process; see bottom of this page.
City staff will work with you to put together an action plan for your street mural project. There are some other forms and preparations you'll need to pull together for your street painting event.
What You Need
An insurance policy for event coverage
Certified flaggers for any traffic control
Mural Designs
As you think about what design you would like to choose, here are a couple thing to keep in mind:
Any words that refer to traffic control such as "Slow" "Yield" or "Stop" cannot be included in a street mural.
Words that refer to your neighborhood, school, or community may be used.
Street murals will be seen by drivers, pedestrians, cyclists, and other road users passing through and small details may not be noticeable.
A simpler design will take less time to paint and will be easier to maintain in the future. Future maintenance will be needed to keep your mural looking fresh and maximize traffic calming benefits.
Only certain kinds of paint can be used for street painting, and color options may be limited.
Funding Ideas
Street murals can be a relatively low-cost enhancement to a residential street. Often, neighborhood associations use their own funds, but there are also grant opportunities for street mural projects. The Watershed Alliance of Southwest Washington offers up to $2,000 for community projects in the City of Vancouver through their Neighborhood Sustainability Grant program. National organizations like America Walks and The League of American Bicyclists offer community grants too.
Street Murals in the City of Vancouver
East 22nd Street and D Street (Arnada)
East 31st and F Street (Shumway)
South Garrison and Morrison (Vancouver Heights)
Omaha Way, between Wichita Drive and Missouri Drive (Vancouver Heights)
Northeast 124th Avenue and Northeast 2nd Street (Fircrest)
East 33rd Street and R Street (Rose Village)
East 33rd Street and K Street (Rose Village)
​East 33rd Street and Y Street (Rose Village)
NE 57th Avenue, north of Fourth Plain Boulevard (Bagley Downs)
Files