Letters to Trees
Letters to Trees aims to connect people throughout our community with our trees. This tree appreciation program is for all ages, and seeks to be inclusive and fun for everyone.
Scroll below to see amazing submissions from community members like you.
How do I participate?
It's easy. Just write a letter to your favorite tree.
Do you have a special tree in your yard or near your home? Would you like to learn more about the Heritage Trees in our community? Use our Heritage Tree map to find one nearest you and read all about it. Then, create your letter. You can send the tree anything from a little note about your day to your favorite quote. Make a list of your favorite things about trees. Send the tree a thank you note. Feeling super creative? Write a short story or a poem to the tree. Any language that best allows you to express your tree-preciation is welcome.
If writing is a barrier, please consider a drawing or painting a picture instead. Draw the tree, draw one part of the tree, draw wildlife you would find living in the tree, draw the tree in different seasons, draw a portrait of you and/or your family/friends and the tree. The options are endless.
Letters to Trees is an activity you can do by yourself or with family and friends, by sharing images with each other. Once your letter or drawing is finished, please share.
At this time, Letters to Trees is accepting submissions in two ways:
Hand-written letters or art can sent by email to letterstotrees@cityofvancouver.us. Please include a submission form if possible. You can scan or take a photo of your letter or artwork, and email it to Vancouver Urban Forestry. You can also email a Word document or an Acrobat PDF file. If you have any questions about how to do this, send us an email for more information or help.
Letters to Trees is also accepting submissions online. To submit your letter, poem, story, or memory, use the form below. This is a quick and easy way to share how you care about your local trees.
What are Heritage Trees?
The Heritage Tree Program is an effort by the City of Vancouver to preserve and recognize significant trees in our community. Heritage Trees are protected by the City and are recognized for things such as size, special location, relation to a historical event, or an unusual species. Because of these things, they are perfect recipients for our Letters to Trees program: You don't have to worry about your tree getting removed, and you can know that your tree is recognized for its importance to our community.
If you have a local tree that you think should be included in our Heritage Tree list, you can also submit an application for review.
What happens to the letters when they are submitted?
When you submit a letter or artwork to Letters to Trees you are agreeing that your letter may be published by the City of Vancouver on its webpages and shared at Urban Forestry events and workshops. Urban Forestry will be highlighting the letters through a variety of ways, showing how much our community cares about our great trees.
Every month, we hope to share a few of your amazing 'letters' in our Urban Forestry Newsletter. To sign up for our newsletter, email urbanforestry@cityofvancouver.us. Your Letters to Trees may also be connected to our Tree Plotter, Vancouver Urban Forestry's tree inventory website. You may also see your letter displayed at outreach events and in City Hall.
Our Letters to Trees Program is expected to continue year-round. If you want help to set up a Letters to Trees display at your local school or a neighborhood community center this summer or later this year, please send an email to letterstotrees@cityofvancouver.us.
Please note: We will do our best to highlight all letters sent, rotating them in over time. So please be patient if yours is not immediately public. If you want to write/draw a letter and send it, but you don't want it to be displayed, please be sure to fill out the section of the submission form marked 'Do Not Display' and send the submission form, too. If you just want to put it on your refrigerator or favorite art display location in your home, that's fine, too.
For Educators
The Letters to Trees program seeks to bring recognition of trees, as well as awareness about Heritage trees, to real or virtual classroom through a mode other than science. This project can be used as part of lessons to fulfill language arts or general arts requirements. Follow the curriculum guidelines to lead a lesson and send letters in.
This is a great project to not only work on writing skills, but also for getting outside in your own neighborhood and backyard, for a little science. If it's possible for students to interact with their chosen tree, the activity just becomes more tangible and fun. Whatever the situation, there are many ways you can choose to mold the provided curriculum to your needs.
Not all schools and not all students have Heritage trees within walking distance, so students are not required to write to one specific tree. Students don't even need to physically visit a tree. Instead, you may choose a heritage tree that your class can virtually adopt. Make this an opportunity to help your class find and connect with a special tree of their choosing. Then, fill out our Adopt-a-Tree certificate to let us know that this is the lucky tree that's been picked. Submit a copy of the certificate with your letters so we can recognize the efforts of you and your students. If you want, include a picture or drawing of the tree as well, so we can track it.
The curriculum packet includes: Lessons, tree anatomy worksheet, and the Adopt-A-Tree form.
For Families
This is a great opportunity for you and your family to build an appreciation for the trees in your lives. Consider a family drive past your local heritage trees. You can use the Heritage Tree Map to locate a tree near you. Then, if you can do so safely and with healthy distancing of others, visit your tree. Or if you just want to say thanks to a tree in your yard or along your walk around the neighborhood, that works, too. Then write your letter, poem, or draw your picture. Get creative.
If you want to turn this into a teaching lesson, you're encouraged to use the curriculum and activities provided.
You can send in one letter/submission or several from the whole family. You only need to fill out one submission form even if you have several letters.
Guidelines
Please complete and submit a Submission Form with your entry. You are only required to fill out the date of your submission and information regarding the Heritage Tree you chose. (The 'Do-Not-Display' section only needs to be filled out if you don't want your letter/art published. Write the names of students or family members who don't want their artwork published. If your name is not written, then it will be assumed that you are giving permission for your submission to be shared.)
You are not required to write in English. All languages are accepted.
Letters can be submitted at any time via email. More options may be available in the future, so watch for updates.
There is no required or set length to your letter. However, shorter letters are easier to display.
You do not have to be a Vancouver resident to participate, as we know a lot of people work or attend school in Vancouver. However, please make sure that you choose a Vancouver Heritage Tree, as we cannot track and do not manage trees outside the City limits. Visit the Do I Live in Vancouver? page if you are unsure as to whether the tree's location is within the City.) At this time, Letters to Trees is a program limited to the City of Vancouver.
Any letters deemed inappropriate – offensive language or images, commercial solicitations, off-topic content and other content noted in the City's social media policy – will not be displayed or shared. The decision to display submissions will be up to the discretion of Vancouver Urban Forestry.
If you submit images of people with your project, please fill out a photo release form found on Letters to Trees webpage.
For more information, please contact letterstotrees@cityofvancouver.us
Submit Your Letter Here
Letters To Trees Submission Form
Submissions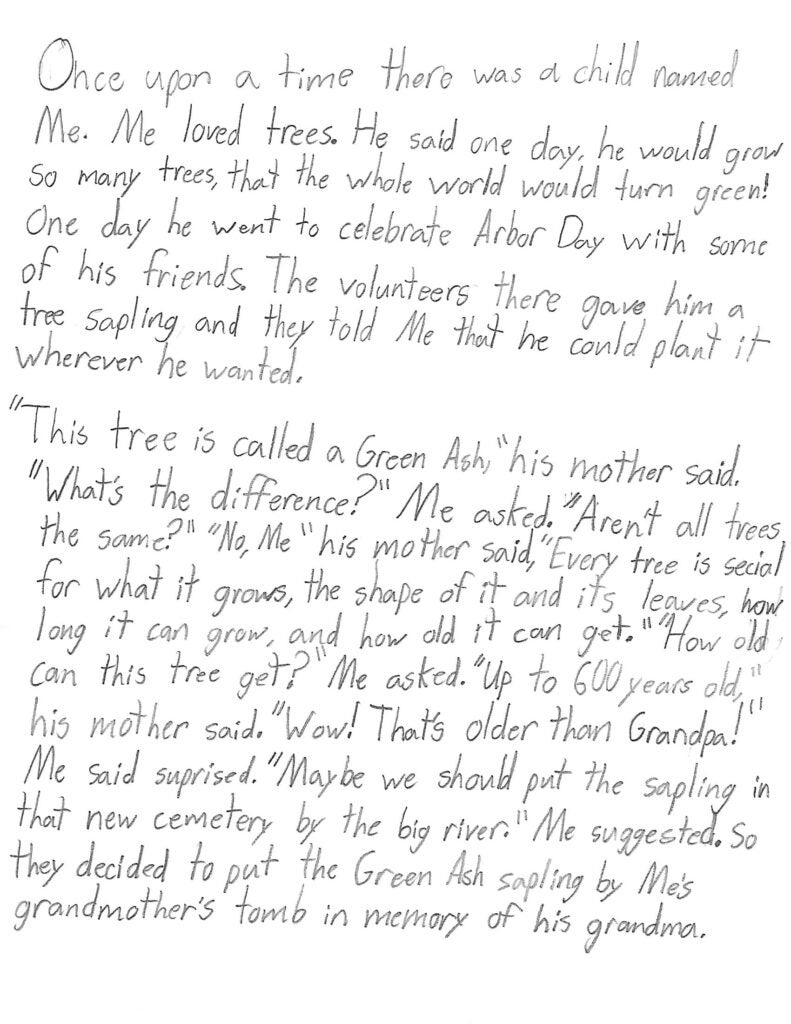 Letter from Daniel to his Heritage Tree – the Green Ash at Old City Cemetery for Arbor Day.
Picture of Daniel and the Green Ash Heritage Tree he wrote to for Arbor Day.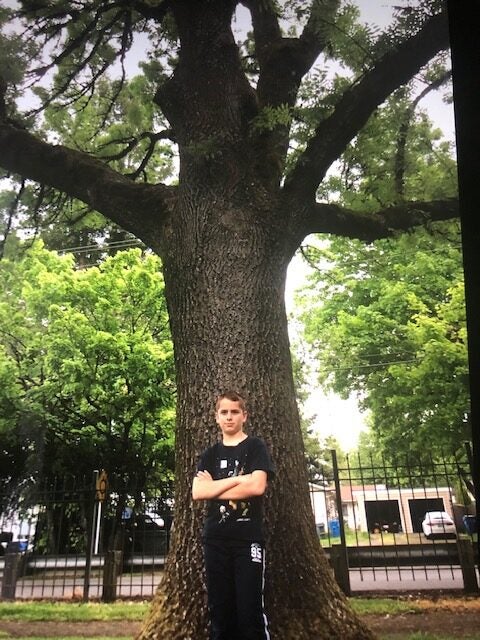 Poem by Urban Forestry Commissioner Melissa to her newsly-planted street tree.
Poem by Mike to the the Douglas firs around the lodge and along the lake at Camp Currie.