Native Gardens
Inspiration is in full bloom in the Water Center's gardens. Installed in 2006 and recently certified at the Silver Level in the Backyard Habitat Certification Program, the gardens showcase plants native to the Pacific Northwest. Our gardens are a demonstration of what a mature native habitat garden can look like in your garden space. Full grown trees and shrubs offer the visitor an idea of how much space is needed for native species to thrive.
Native gardens have adapted to our climate and contribute to sustainable and healthy ecosystems. They use less water resources, limit the need for pesticides, enhance wildlife habitat and support pollinators native to our region.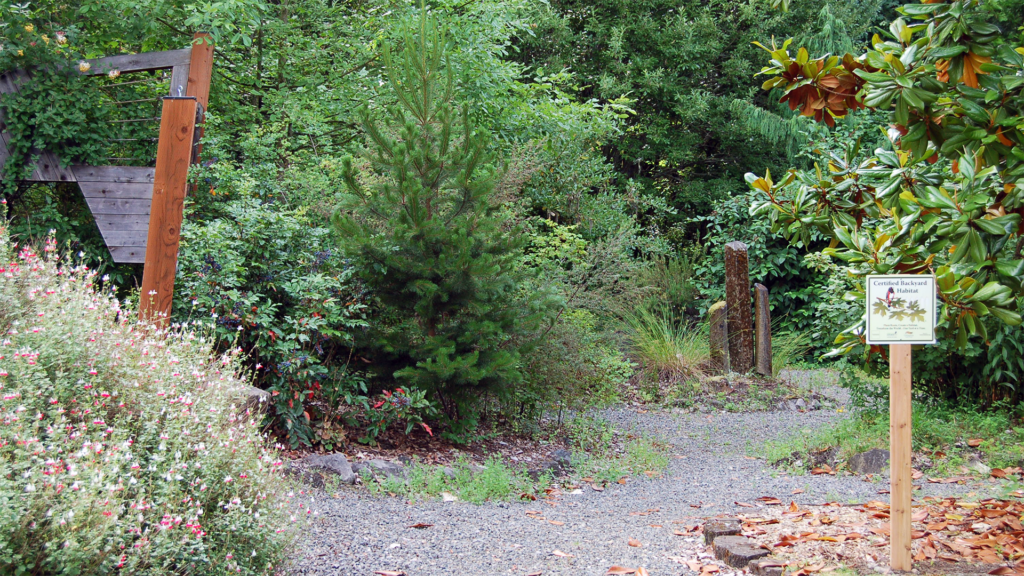 Gardening Tips and Ideas
Wherever possible, choose native plants for your garden.
Native plants attract beneficial pollinators, support wildlife and decrease unwanted pests.
Pick the right plant for the right place. Choose native plants that are adapted to the light, soil and space available in your garden.
Group plants with similar water needs together.
Frequent and shallow watering can be harmful to plants. Instead, water deeply and less frequently to help plants establish good root systems.
Soaker hoses and drip irrigation methods result in less evaporation.
Build and maintain healthy soil.
Keep leaves in your yard in the fall and winter months. They can serve as a mulch layer and keep the soil warm, prevent runoff and provide food for year-round song birds.
Leave your yard a little messy in winter. Remnant flowering stalks, leaves and twigs provide habitat and food for animals during the cold winter months. Hold off on your garden tidying until late winter when plants start emerging again.