Volunteer with Vancouver Fire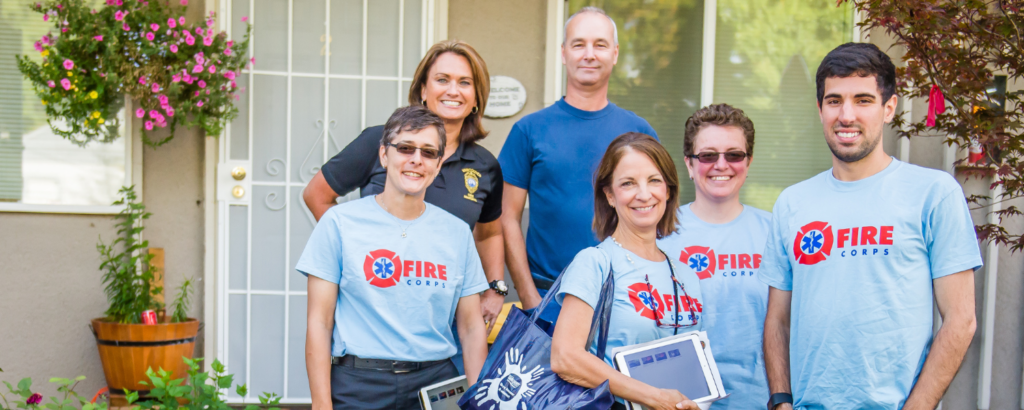 Regardless of your age or circumstance, the Fire Department invites you to join us in creating a safer Vancouver.
Fire Corps
Fire Corps is a nationwide partner program of Citizen Corps. It is designed to provide citizen advocates with a mechanism to support their local Fire Department through a donation of their time and talents. By working together, Fire Corps provides a well-rounded approach to supporting our community's emergency fire/EMS services.
Fire Corps is not a volunteer firefighter program. Instead, it is variety of important and creative projects in which almost anyone can actively participate.
Fire Corps focuses on unique areas of non-emergency support that are critical to Vancouver Fire Department's mission. The mission of the Vancouver Fire Department is to provide highly trained professionals, well-equipped to respond effectively to the education, prevention, and emergency response needs of our community.
The Vancouver Fire Department is dedicated to making our community safer through community risk reduction. Fire Corps provides an exciting opportunity for our citizens to be part of our mission by providing non-emergency assistance to their Vancouver Fire Department. Become a Fire Corps member, so we can start putting your good skills to use!
Citizens in Washington and Oregon interested in making their neighborhoods safer are encouraged to apply for the Vancouver Fire Department's Fire Corps program. Fire Corps is always accepting applications and holds training academies twice per year. All volunteer applicants must meet the following requirements: 1) Be a U.S. Citizen, 2) Be at least 18 years old, 3) Pass a background check, 4) Complete Fire Corps training academy and 5) Participate in a combination of four events and twenty hours of volunteer time.
VFD Fire Corps Objectives
Assist Vancouver Fire Department with promoting community risk reduction
Create a high visibility, public presence in Vancouver, Clark County Fire District #5 and Fire District #6
Improve the quality of life in our community through fire and life safety awareness education
Foster cooperation between citizens of Vancouver, Clark County and the Fire Department
Educate the citizens in community risk reduction and increase fire and life safety awareness in Vancouver, Clark County Fire District #5 and Fire District #6
Help Vancouver Fire Department staff be more effective and productive
Make a difference in our community
Enhance existing fire prevention programs
Corporate and Club Partnerships
Vancouver Fire Department welcomes corporate and club support for our community risk reduction initiatives. Contact us to see how your organization can help make a difference today.
VFD Fire Corps Opportunities
Elementary School Safety Visits
Home Safety Surveys
Smoke Alarm Installation
Community Safety Events
Marketing and promotional materials development
Targeted Risk Reduction Programs
Research and technology
Develop Public Service Announcements
What skills do I need to do to become a Fire Corps volunteer?
Enjoying making a difference in your community
Dependable
Energetic
Ability to positively influence children, adults and seniors
Trauma Intervention Program (TIP)
Looking for a rewarding volunteer opportunity? The Vancouver TIP Chapter is looking for TIP Volunteers. TIP is a national non-profit organization of specially-trained citizen volunteers who help others in crisis. Once a year they recruit and train additional volunteers.
TIP was founded in 1985 in San Diego, California by a mental health professional who discovered that people who are left alone immediately after a traumatic event would often need long-term care later on. In response, he joined with police, fire, medical examiners and emergency room personnel to develop the TIP volunteer program. In 1991 he won the Innovations Award from Harvard University and the Ford Foundation. They presented him with a $100,000 grant to go nationwide. Portland, Oregon was picked as the target city to replicate the program, and since that time, TIP has spread to 108 cities across the nation. Last year, TIP was recognized with the prestigious 2000 Crime Victims Service Award presented in Washington D.C. by Attorney General Janet Reno.
TIP Volunteers are called to emergency scenes and homes to provide immediate emotional and practical support to victims and their families when something bad/traumatic has happened. Some of the victims aided by TIP are family members following the death of a loved one, survivors of suicide, victims of crime, children whose parents have been killed or injured, victims of fire and auto accidents or disoriented older persons. These are often people that emergency responders may not have time to assist. TIP volunteers will stay with the client until family or other support arrives so they are not left alone. Volunteers go where they are requested. They do not listen to scanners or stop on the highway. At the scene, TIP volunteers provide a human presence and referrals to ongoing care or support services. They make follow-up calls and offer any other information or referrals that might be needed.
Vancouver, Washington is the first area in the State of Washington with a TIP Chapter. There are 35 adults and 19 teens in the Clark County Area who volunteer in this busy chapter. These volunteers are responding to over 40 calls per month and average an 18-minute response time. All volunteers have graduated from the National TIP Training Academy, which is almost 60-hours in a 2-1/2 week period. All prospective TIP volunteers have their backgrounds checked and are fingerprinted. The Training Academy is an on-going assessment process. This training and screening process ensures professionalism.
The partnership between TIP and the City of Vancouver Fire Department and Police Department fills a gap in emergency response services and helping decrease the cost of public safety by involving citizens in support tasks which are currently performed by emergency personnel. It actively involves citizens in local government in a meaningful way.
Become a part of this exciting volunteer opportunity in partnership with the Vancouver Fire Department.
Contact
Jordan Johnson, Crisis Team Manager at 503-823-3937 or visit www.tipnw.org